Shots fired! Shots fired! I would yell out these words every time Mike Essa came diving into the long sweeper in his superbeast turbo bimmer and it would backfire like it was gang banging in Oakland. I'd then pause to pick stray bits of rubber off of my Lifeblasters tshirt, clean the front element of my 70-200, and then wait to pan on whoever would be next, wearing a grin so eager, it could only be described as blissful.
For the first time in my life, I was finally able to attend the euphoric drift wonderland that is Formula D. The sixth round of a seven stop tour, FD had returned to Texas in what has almost been a decade away from the Third Coast.
The chosen setting was the Texas Motor Speedway in Roanoke, Texas. A gigantic track that may be familiar to NASCAR fans, it brought a significant shake up to the FD standings. Not only was the Texas Motor Speedway a fresh new arena for most of the teams, it proved to be the fastest track this season, with some drivers hitting entry speeds near 110mph.
It was my first time to ever come out to Formula D and I never realized how much it actually paralleled itself on the ProAm level. Both days I was able to freely walk around the pits where competitors parked their cars and worked on them, if not for the vendor booths littered throughout, I'd think I was at a grassroots event.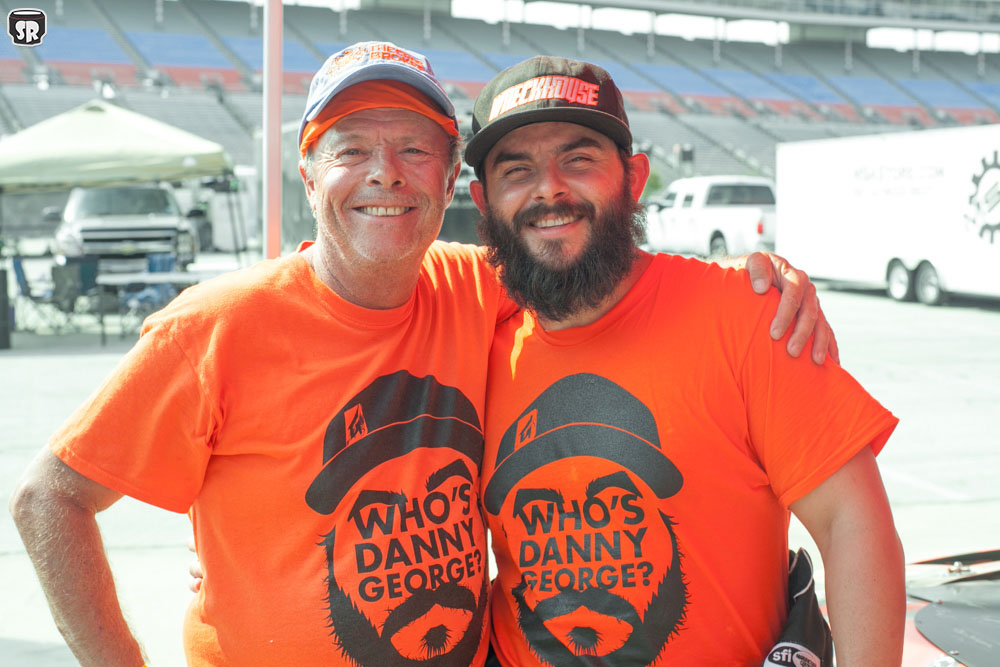 Despite all the merchandise, fanfare and sponsorships, these guys are still very much just your regular dudes out to slay tires and bang doors; you can almost forget all the celebrity status. Hell, maybe I was a little too star struck for my own good, but it still felt weird to be able to just casually walk up and say hi to my favorite drivers as they were eating lunch. I even got to meet Danny George's pop, who happened to also be a fun guy. Acorns and trees.
It was an unreal sensation physically touching all the sick cars that inspire and motivate tuners across the country. On second thought, I'm not sure if I was allowed to do that one. Have camera, will lewdly touch race cars. (this paragraph is a joke, nobody sue me)
Back out on the track, day one was the fierce qualifyings with the field vying for the 32 competing spots on Saturday. It being a new, fast course took a lot of drivers by surprise. Even drivers as solid as Ryan Tuerck didn't make it to the next day. Tuerck in particular getting knocked out by dirt drops on his two qualifying runs.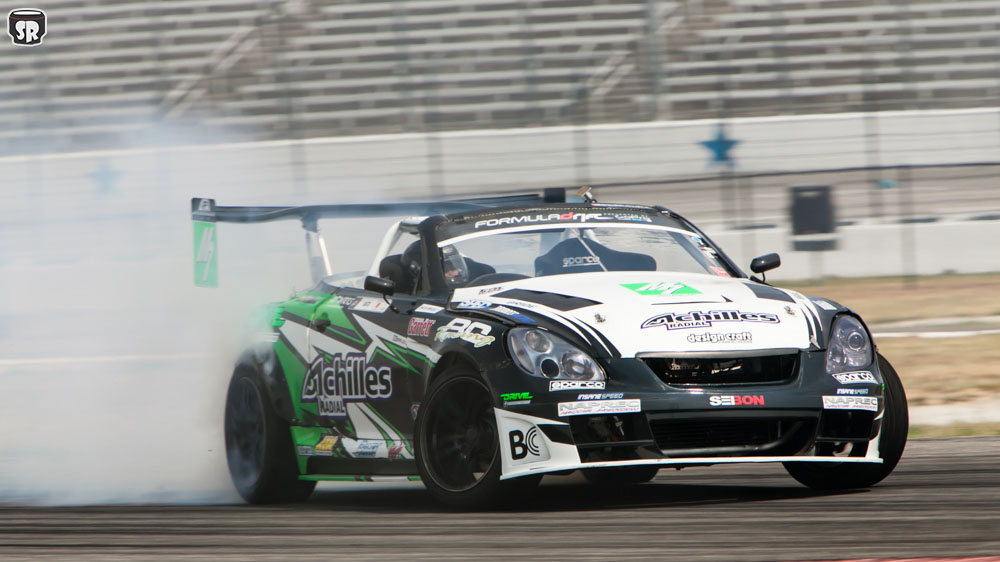 Daigo Saito has not been having the best season so far (relative to his absurd "rookie" year). Scoring a 0 on his first qualifying run then getting knocked out once in the top 32s, the track was unforgiving with its high speeds. Whereas walls would normally serve as gutter guards to keep cars from dirt dropping tires, the track had none whatsoever and it left drivers punished by small mistakes.
Some guys were a little more dramatic with their run offs though. The distance from the ground to the road was significant enough to have drivers three wheeling their Nissans like Doctor Dre hitting switches in a '64 Impala.
At the same time, the rookies finally had their chance to shine. Texas sweetheart, Will Parsons, made his second appearance in the top 32 this season, positively killing it out there to a soundtrack of an adoring crowd.
My longtime favorite, Danny George, was able to jump into the top 16 this round. With half of the audience bleeding orange, we absolutely lost our minds with his win in the top 32. Danny George is awesome and does more for the Miata drifting community than Raceland and XXR combined. You can quote me on that!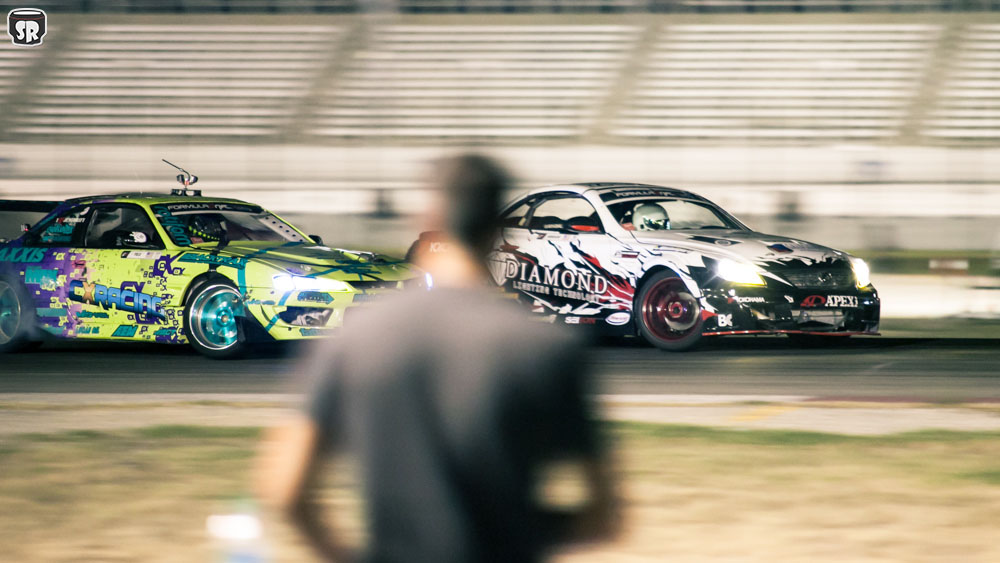 After the 32 who qualified duked it out, it went from the top 16 to 8 to 4 to 1. Things got intense, Thunderdome style as the night moved in. Two cars enter, one car leaves! Unfortunately, without a shiny yellow wrist band, I was stuck peeking over shoulders most of the time. (I could be happier with this shot in particular if granted some small changes. Guess what they are!)
Worse though, I could only camp one spot at a time. For the top 16 I made a mistake and parked myself before the first clipping point. With every spot along the fence occupied after realizing that, I found moving elsewhere to not be an option and I accepted that I'd have to live with missing out on insane tandem proximity and getting a lot of backs instead.
But then things got real when Patrick Mordaunt did this to Vaughn Gittin Jr. Taking no prisoners, Mordaunt went all in from the entry point on his chase run against JR, intent on taking out the drift Goliath. Initially, the judges gave the win to JR, but after some deliberation over dropped tires and straightened lines, the rulings were reversed and Patrick Mordaunt moved on instead.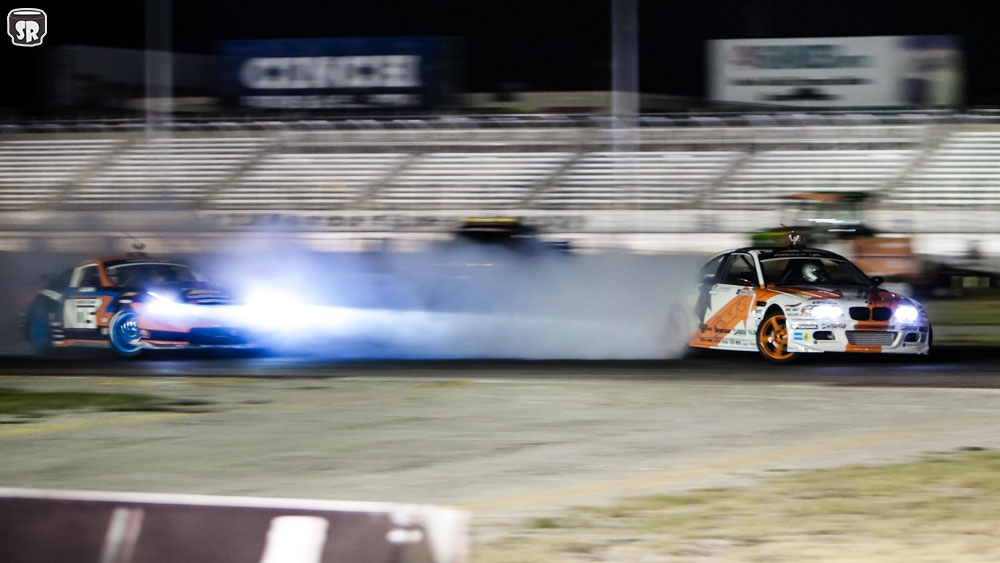 Intense battles littered the final runs, widdling the 16 to three with Mike Essa coming out on top, Matt Field nailing second and Chris Forsberg rounding it all off in third.
Matt Field took the podium for the very first time and… well, he better keep it up so he can get some practice popping those bottles.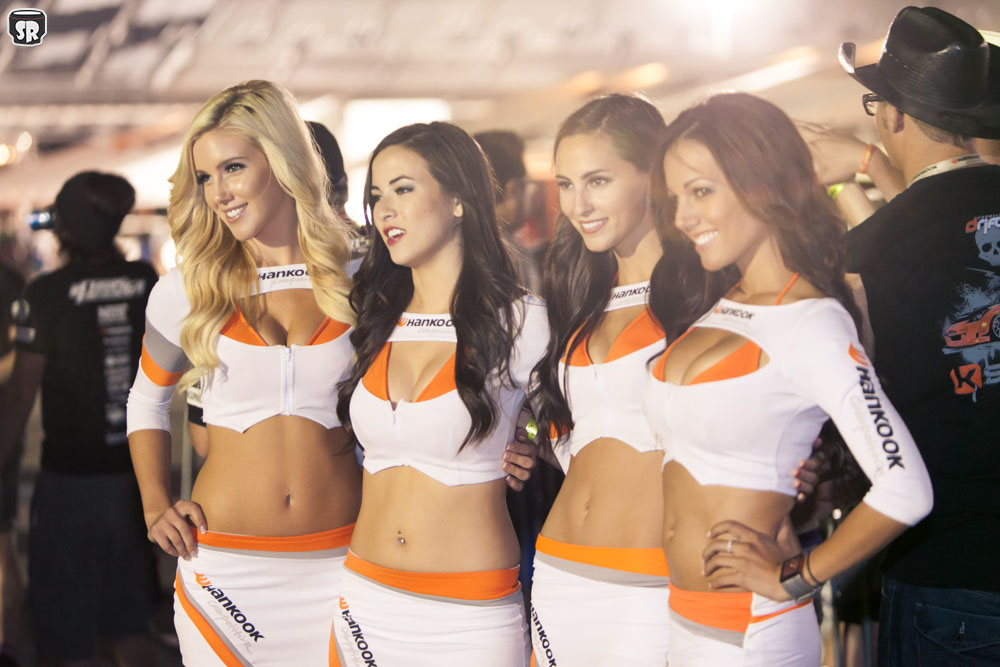 The Formula D weekend recap is not over! Check in tomorrow for photos from the Slammed Society car show! As per usual, a healthy handful of additional photos are down below and a good bunch more are over at AutoEssence!