Confession time! I've never been to the Houston Japan Festival before! To some that might not be a big deal, but I moved to the United States in 1995 and this year marks Japan Fest's 22nd anniversary. This means that the Houston Japan Festival has literally been in town longer than I have. Yeah, much slacking on my part.
The Friday evening before the festival brought to Houston a rainstorm of massive proportions. The city flooded in many areas and the immediate effects it left with Japan Fest was a festival of muddy pathways. We were lucky to have sunny skies through the festival weekend, but the opening day did have what seemed to be a smaller attendance density as an overcast sky threatened would be goers.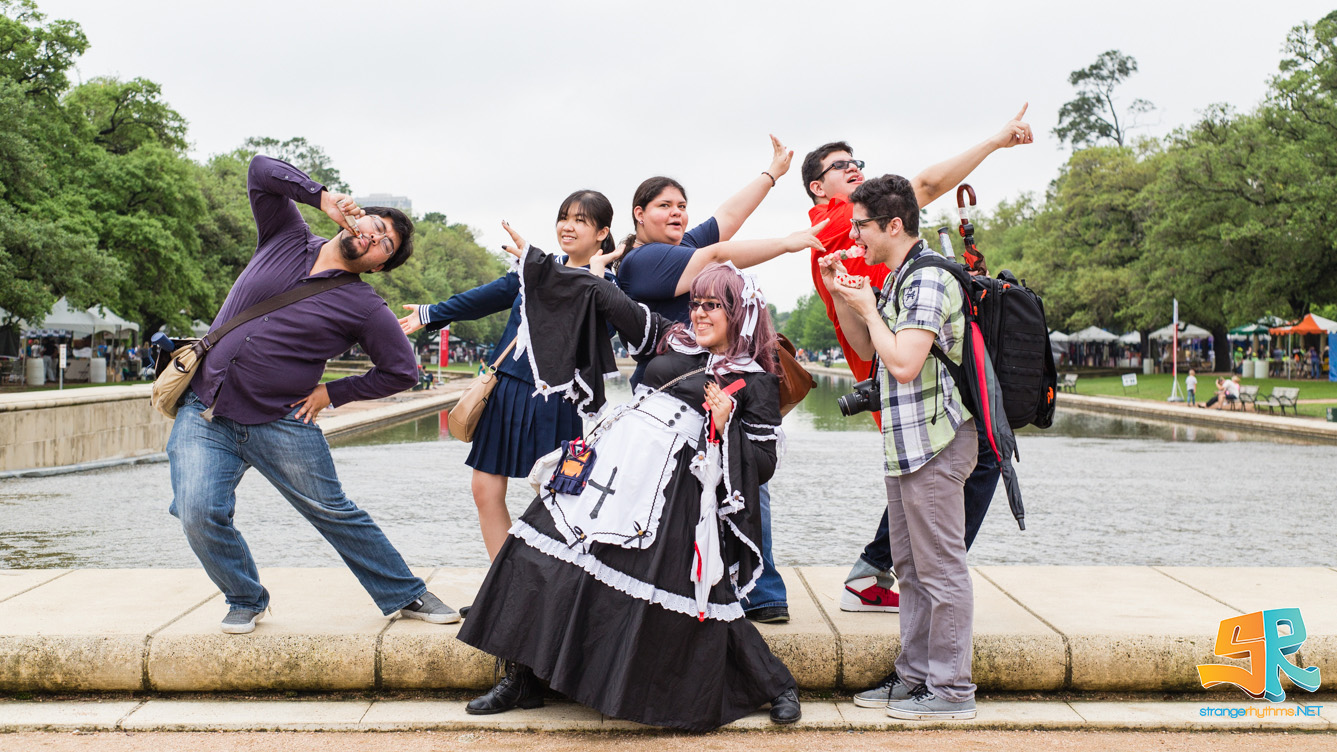 Those who did play their chances had a great time (with umbrellas on stand by). I randomly assimilated into a group of strangers turned friends and they were just sweethearts. It's always nice to go to these things with buddies and I'm happy to have made a few new ones!
The festival functioned on a ticket system of a 1:1 dollar to ticket ratio. These were dispensed at booths located at strategic pathway choke points that would drive a fire marshal insane were it indoors.
Tickets were the currency of choice for most of the food stalls. A lot of the stalls were selling the same thing with variations in quantity and quality (on account of the vendors being entirely different shops). While it wasn't that big of a deal, it was a little obnoxious to subconsciously scrutinize portions when that penny pinching cheap ass inside me gets goaded into calling shots.
Tickets could also be spent on a bunch of little cute games and things like this bubble scooping thing. Traditionally the Japanese game is played with Goldfish to be won as pets, but well, this is probably a lot safer for the little fish (though they are still the prizes of the game).
Some vendors existed beyond the scope of the ticket system and functioned with good old fashioned dollar bills (y'all). I spoke briefly with a vendor of antique Japanese items who had been attending Japan Fest for years. She had a lot of lovely hand made items including wall scrolls that reached as far back as the 19th century.
The weekend really did turn out to be a beautiful one and the main stage was able to have a great amount of performances that I wish I brought a telephoto for haha.
May not be a surprise, but the festival was filled with a bunch of awesome cosplayers. For some reason I've never considered cosplay as an overtly Japanese thing (who doesn't like costumes?), but it's definitely far from being removed from the Japanese Culture. Either way, I love seeing people's outfits under any circumstances! Check out more of this particular Assassin at Chezah Cosplay!
Pretty Gothloli dresses were everywhere too! I regret not taking a picture of the sizable paparazzi swarm around this girl, but I guess I was kind of part of it…so…
wow such pictures so bokeh nice missing focus
If you missed out on the Houston Japan Festival this year, well, it sucks to be you. But hey, 22 years tells me it's happening again next year! Hope to see you then!
Postscript; omigawd, you MUST see this amazingly adorable story comic by Jenny! I love it, and it definitely captures the best part about Japan Fest: good good peoples!