Sometimes when I hear people talk about Hawaiii they say it's a nice place to visit, but not a place they can see themselves living. You know, because all that nature, perfect weather, amazing food and gorgeous island girls gets hella old real fast, right? (At this point all my friends on Guam will roll their eyes at me in disbelief). No, I don't subscribe to that opinion. For me, the place that I love to visit but would hate to live is Mineral Wells, Texas.
There isn't much out there. It's got some tumbleweeds, a lotta farms, maybe a Walmart and a Chilli's. But you know what? If it wasn't a 5 hour drive from Houston, it'd be my favorite Lone Star Drift stop. Despite all the unimpressive first impressions, it does have an airport! And the best part about this airport is that it has a nice spot set aside where car guys get to do things that skate the boundary of stupid and awesome. And no one is around to complain. (Looking at you, WALMART.) Mineral Wells = +1.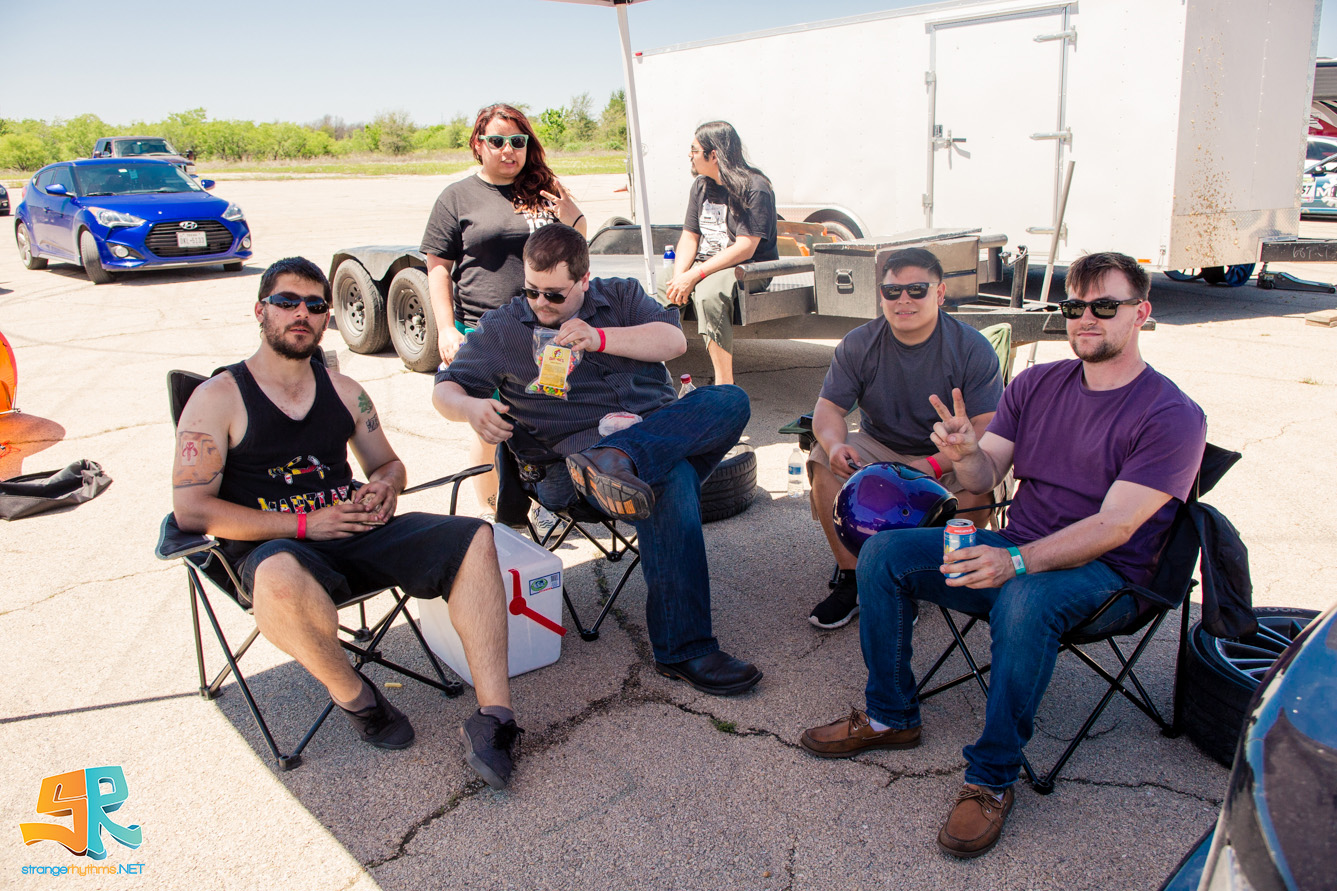 The trip up for me started at 3am Saturday morning. I rolled up with the Houston 86 because everything's better when you got your squad with you, and every drifter should have a pit crew, even if the only thing on the agenda is to nap and drink beer all day.
Of course, I spent most of Saturday driving, so pictures are a bit thin for the beginning of the weekend, but I did get a chance to watch people tear it up here and there.
Round 2 had more than just a few special guests turn up. Formula D driver Nate Hamilton brought out his demo car. Dude's driving gets sharper every-time I see it.
Gotta be a nostalgic feeling banging doors with the Texas ProAm guys like back in the old days.
One of our other guests, this dude came from Hawaii to shred with us; his driving is radness certified. Also it's dope to see another pacific islander once in a while haha.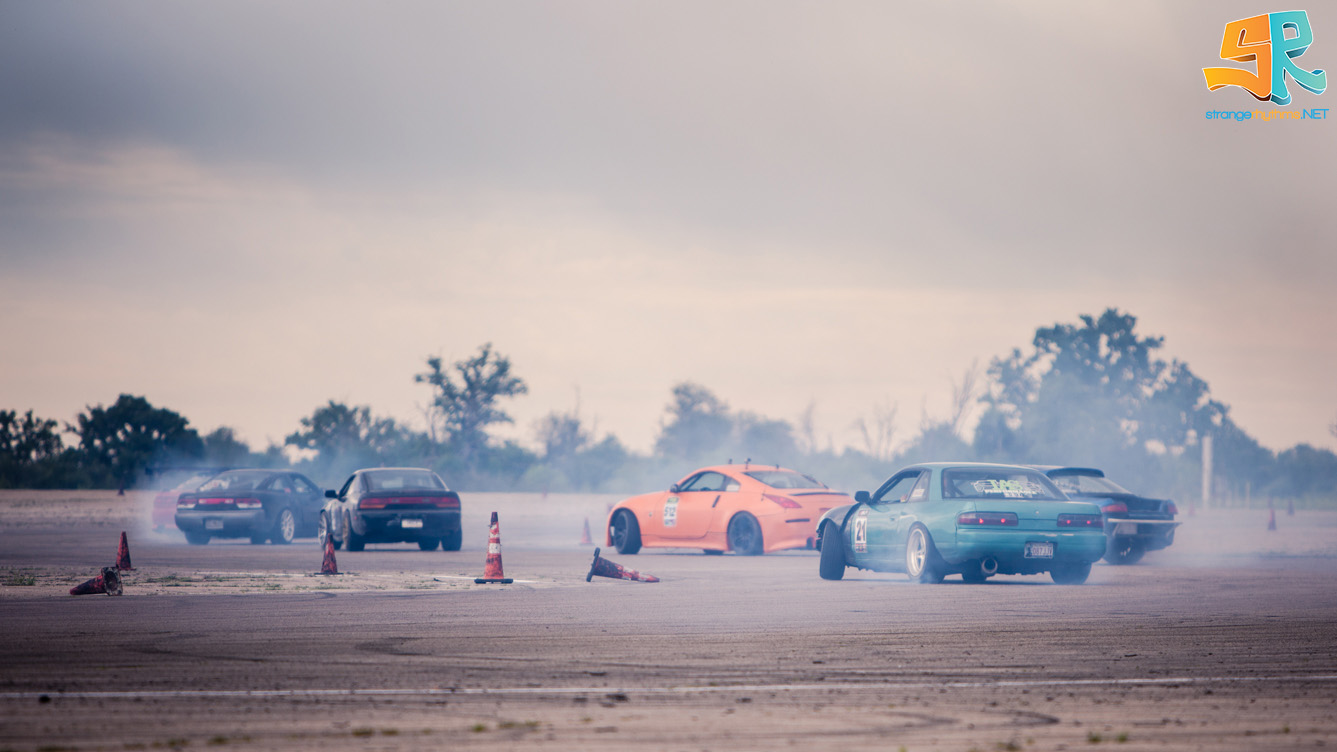 Everybody loves driving Mineral Wells because it's kind of a remote location relative to, say, Gulf Greyhound Park. It almost feels like we enter some bizarre world where all bets are off and we can do anything we like.
Driving went on til sundown, and once the track went cold we all partied until the phrase "white boy wasted" began getting tossed around the camps like a volleyball.
Of course, since I'm a model of restraint and moderation, I was one of the lucky few to not be hungover and had no problems waking up at dawn. Benefits included getting to use the portopotties before they were coated in vomit and other bodily fluids (some grosser, some more mysterious).
After a quick drivers meeting with the half alive attendees, driving resumed for Sunday.
Oh, side note: Remember how I mentioned special guests? Matt Powers popped up on Sunday to drive with us. His Instagram tag is @Powers_sucks and that name is a total oxymoron. Dude is a freaking cool guy; I was super psyched to meet him. I done went and got spaghetti everywhere.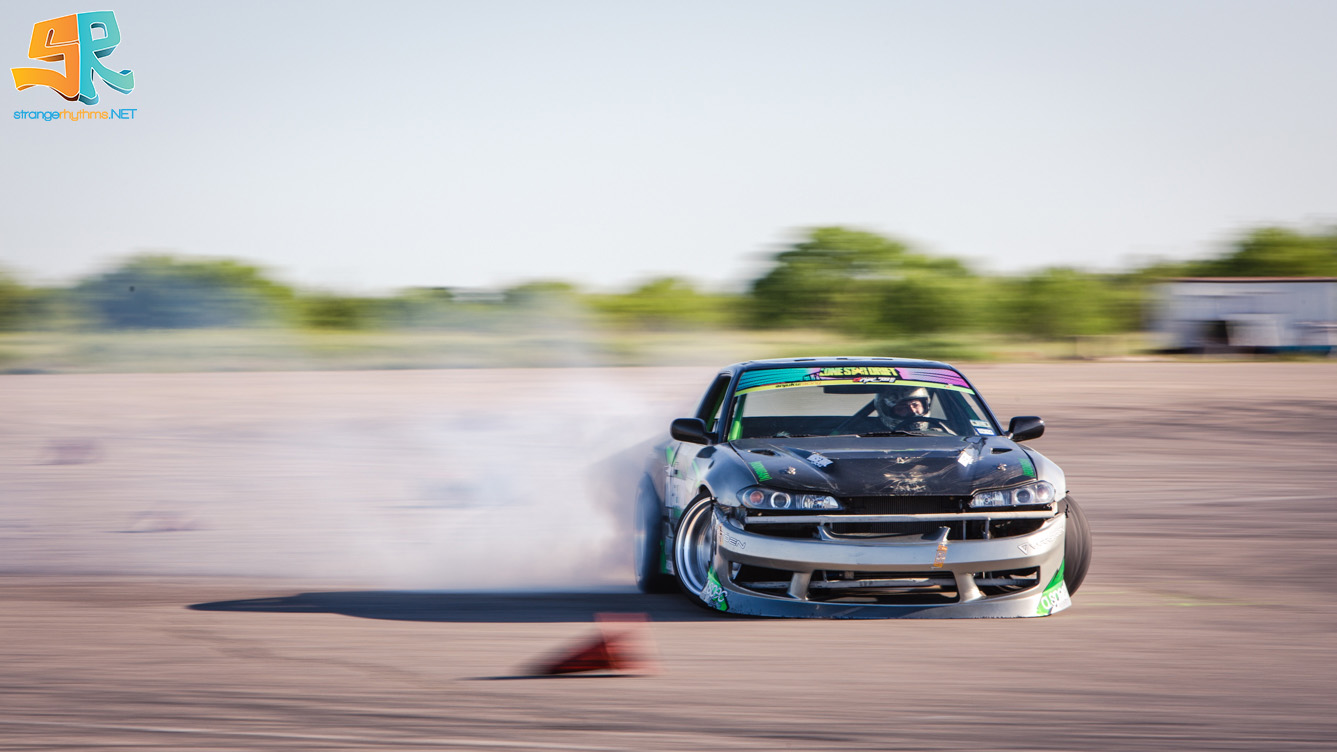 Most of the drivers who came up for Mineral Wells were also competing. This meant practice time for those who qualified was straight up business. John Riggs is about that life.
I played a fun game of 'TXSL or ProAm'? Some of the cars kind of skew into both categories of competition and it was easy to mix up the paths each build was on.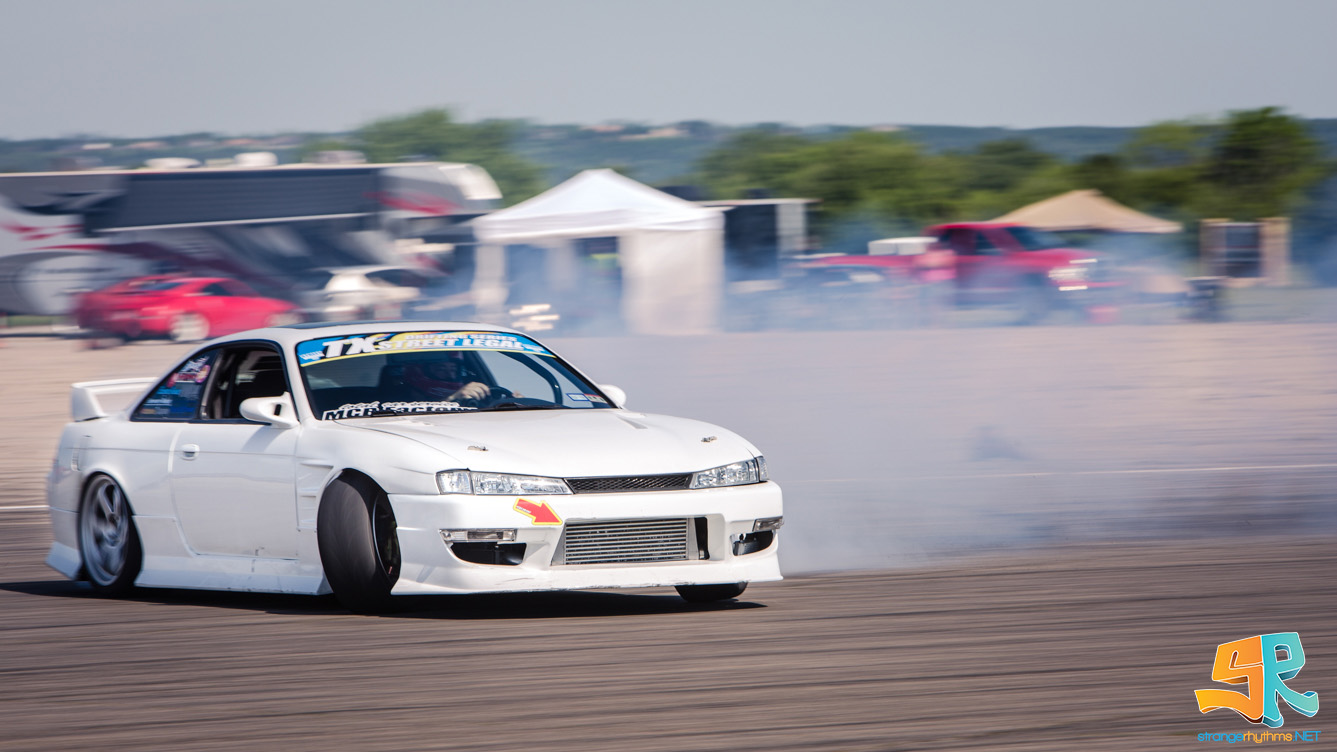 Aaron Losey considers Justin Rogers' car the poster child of Texas Street Legal and it's not hard to see why. It's fast, gorgeous, reliable and puts in work. I think the build represents something every daily drifter strives for.
When TXSL competition got going there were only a few in the bracket. Mineral Wells is a million miles from anywhere, so it's not all that surprising, yet still battles went down.
Aaren Smith ended up taking the 2nd round of TXSL in his new Mustang this season (though an older generation relative to his previous ProAm build). Watching him drive this thing kind of tickled me a bit because he and the car have become an absolute juggernaut of a dark horse when everyone was expecting SR20/KAT 240s and 350Zs to dominate TXSL. Between him and Brad Burnett it's absolutely amusing that the spooky V8 hysteria might just start to reach beyond Formula D.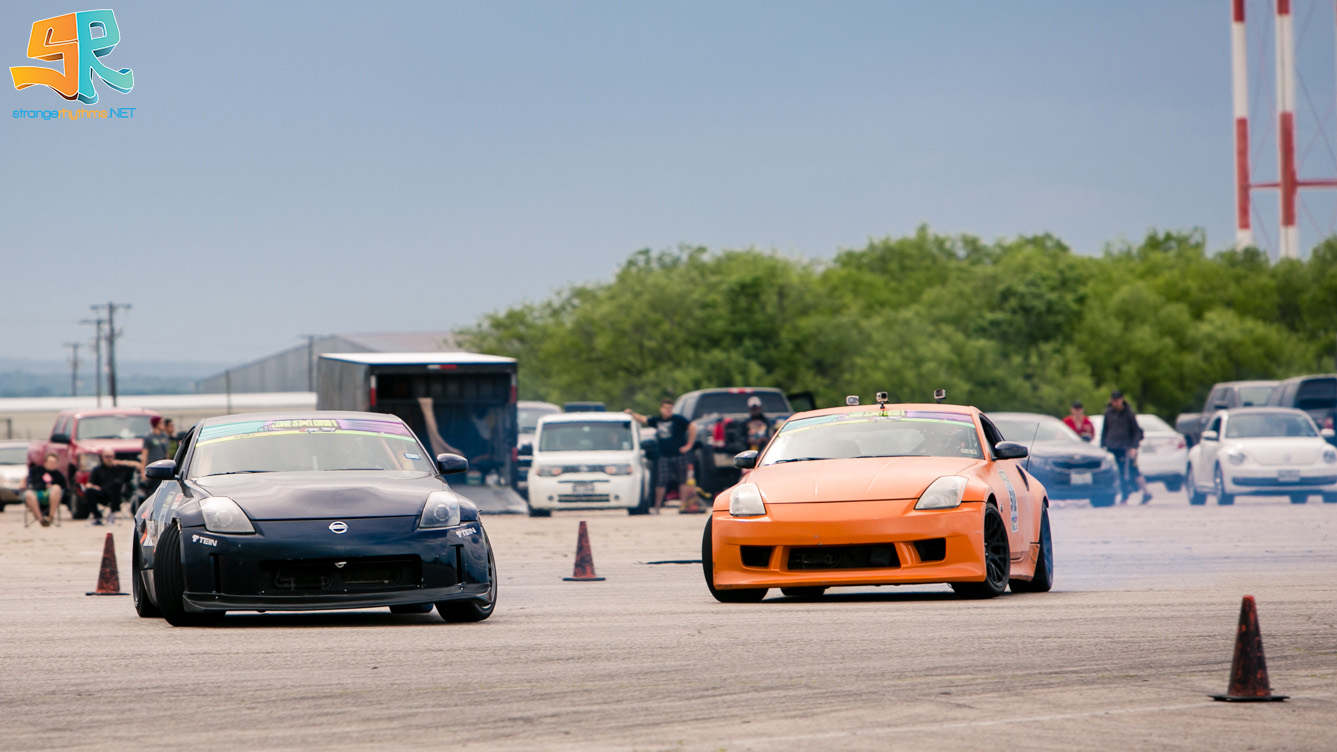 On the ProAm side of things, competition went on for a good while because once again, we had a top 32! The season is shaping up nicely!
Ultimately, Randall Waters took the second round of ProAM, making it two podiums he's topped in a row. Woah, was he always this much of a threat? Wait, maybe he was the true dark horse in Lone Star Drift. Error 350; V8 not found. I officially have no idea what I'm talking about. I'll stick to taking pictures.
Anyway, standings now have Brad Burnett leading points for TXSL and Randall Waters leading for ProAM. It's still too early for my miraculous psychic call outs, but this season will definitely be a fun one to follow for sure.
Be sure to check out the photos from both Day 1 and Day 2! And if you're interested in participating in the LoneStarDrift series, please visit here.
Day 1
Day 2