I'm not gonna lie, car shows are kind of my thing. It's sometimes said that cars are not capable of being considered art and it is true that some vehicles are entirely utilitarian; the word vehicle itself would even suggest that. However, I feel that the aesthetics of vehicles sometimes transcend the boundaries of design for the sake of marketing, and this usually happens when it falls into the hands of the ambitious general public. When we have this happen, the car show is usually the place to see it.

Even though I say all that, it's still kind of funny how the first few cars I post are purpose built race vehicles. The one that started this entry is the actual rally car of professional driver, Bucky Lasek. Despite their focus on function these race cars look cool. You don't have to know how much horsepower it makes, or how many G's it can withstand on a skid pad to think this is cool. It's a form dictated by function and cars are one of the few things that can get away with this.

Okay, okay, maybe bikes too. I used to think scooters were a little goofy, but extended frames and drive wheelsjust look so right. It's a modification not just for drag racers anymore.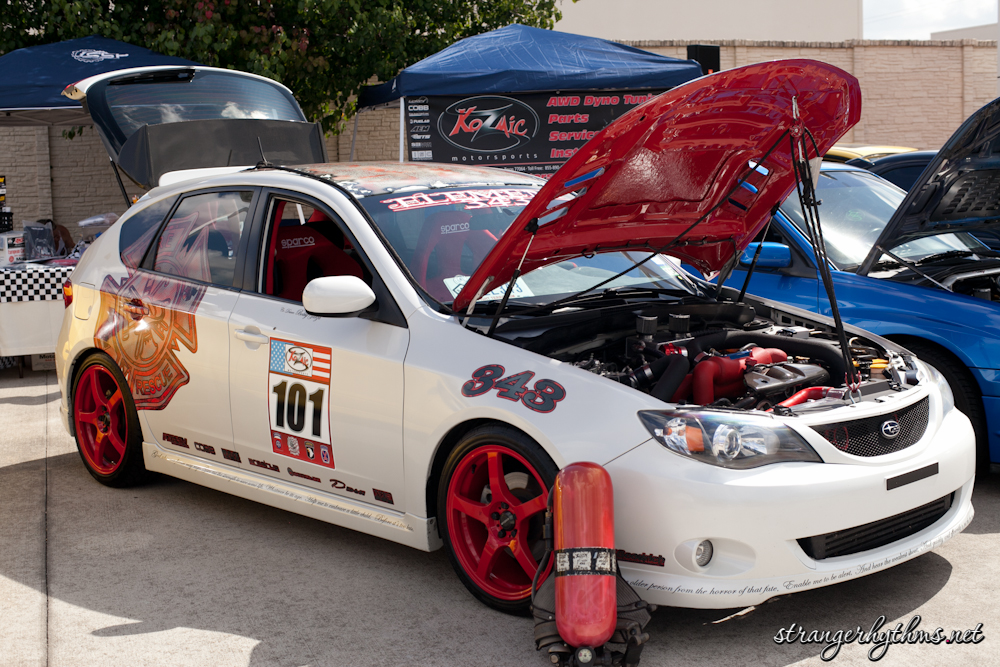 I love the theme of the livery on this Subaru. Seems right at home, no?

Air-ride is not a new technology, nor is it entirely outrageous these days, but builds that use it always turn out so fantastic. It really creates a look that brings the whole car together, tucking the wheel into the body just makes a car look sleeker. It's a very subtle influence of race car design, even if it's hard to believe such a thing could find its way into a luxury sedan.

Part of the reason Gillman Subaru was hosting Big Event 4 was to debut the Subaru BRZ. I'm not sure if they're allowed to cal lit a debut when they had already been selling them for months though.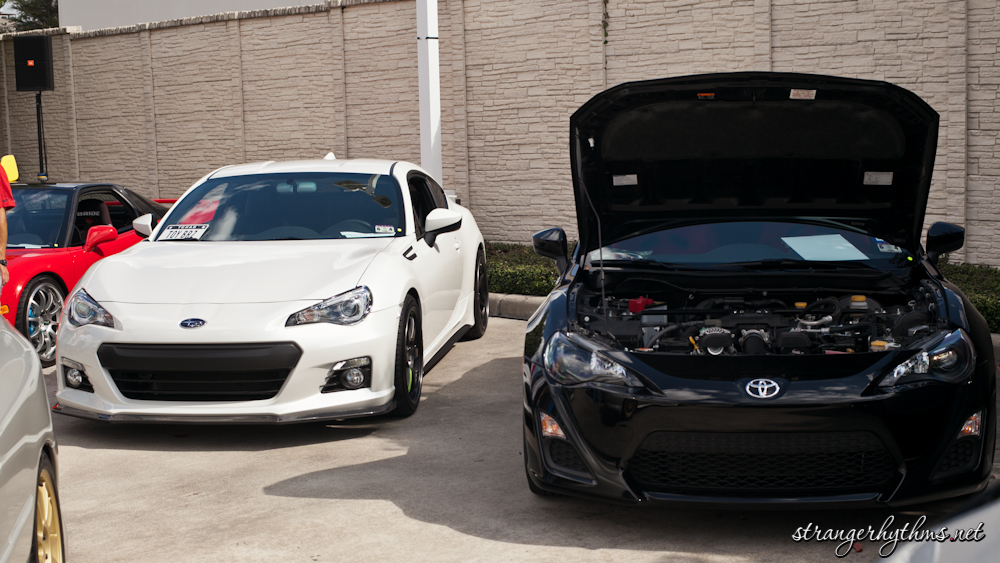 There were even a couple privately owned and modified examples in the car show. The black one on the right is the Subaru BRZ's mechanical twin under the Scion mark, the FR-S. I should also mention that I own an FR-S myself and know the owner of the black one pictured above.

There were much more than just Subarus at the show though. This Integra is kind of an oddity. It's a Honda with the power train of a Ford Mustang Cobra. That mixed with it's outrageous body work and color scheme have given this car in particular a bit of public notoriety and infamy. Personally? I'm kind of a fan.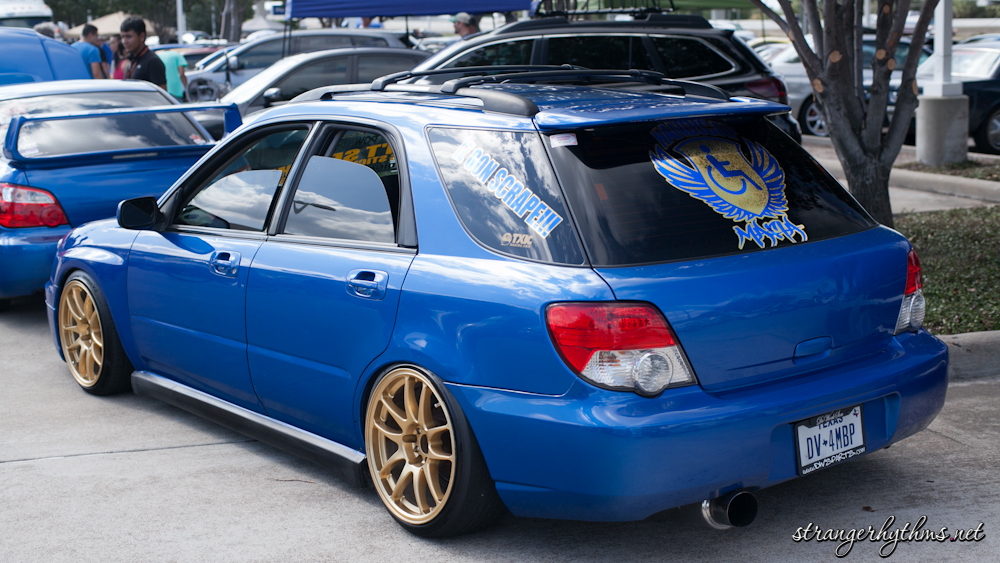 This Subaru belongs to a car group known as the Handicap Mafia. Apparently they are a team of physically disabled drifters and car enthusiasts. It'll make me seem kind of corny, but I find that inspiring. Just a matter of ignoring adversity and doing what you love gets all my respect.

Always like seeing built GT-R's. Not a tremendous fan of these cars, but I can't deny the coolness of South Side Performance's build.

When I was out in Guam last month, I'd notice that trends caught on tremendously slow. Not always a bad thing, but it meant I'd relive certain fads more often than I'd like. I was hoping that Oppan Gangnam Style had moved on in the U.S. Nope. Even Bucky Lasek joined the flash mob.

I figure I'd end this post with a car that encapsulates form over function. Not a piece of it is untouched, but in its quest for aesthetics it's hampered its use as a practical vehicle. This is a car that was built with artistic intention. I love it, many hate it, but nobody feels this way about appliances.
Check the gallery below for more photos from the event!