Today on Kicking It, I'm reintroducing a face from the drift community that briefly cameo'd in a post last year, Joshua Steele of NEVRSLO Motorsports. If you remember, I encountered Josh for the first time at Round 5 of 2012's Lone Star Drift Pro Am series. Last we met, Josh was tearing up Gulf Greyhound Park in his ubermachine to close out the series with style. When all the smoke cleared, Mr.NEVRSLO had earned one of three coveted pro licenses for Formula D.
More recently,Wayne and I were able to catch up with Josh at an AM Event that NEVRSLO hosts. Before he had to run off and judge qualifying, we were lucky enough to sit down with him and learn a little bit about himself, his car and his plans for the year to come along with the new car he'd be stepping into.

SR: How long ago did you start [drifting]?
JS: About 8 years ago.
SR: No [kidding]? That's a [long time] actually. Was this the first car you started with?
JS: No, actually I started with a 350Z, that I still have. Yeah, I still have it, it's like a milestone for NEVRSLO Motorsports.
SR: Is it on daily driver status now?
JS: Oh no, no, it's fully gutted and caged just like [the S13].

SR: So I heard you were working on a new build for this next season.
JS: Yep! We're doing a true 98 S14 with an LS2 bored over… It's got everything on it… It's like an LS6/LS7. There's a big arguement on Facebook over what really the motor is, but like I said, it's like a cross between an LS2/LS6/LS7-
SR: It's bad ass, they should just leave it at that, right!
JS: Exactly! It's gonna do very well.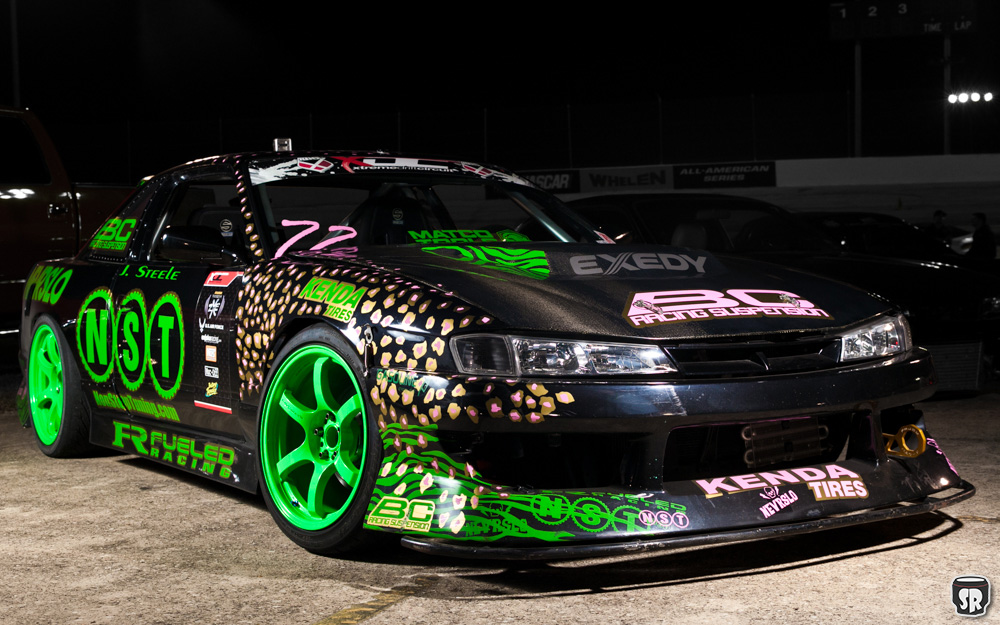 SR: Is the motor going into a whole different chassis?
JS: Yeah this right here is an S13; it's got the kouki conversion.
SR: Oh yeah, I keep forgetting [the front is converted], I swear.
JS: That one's an actual S14, a real true 98 S14.
SR: Nice, when do you think that's gonna be ready to start coming out?
JS: We're almost done with it, just waiting on the coilovers from BC Racing, and we've got a custom engine harness from Chase Bays. We're just waiting on that and that's pretty much it. It's wired, the suspension's on (besides the coilovers) the body and it's ready to go!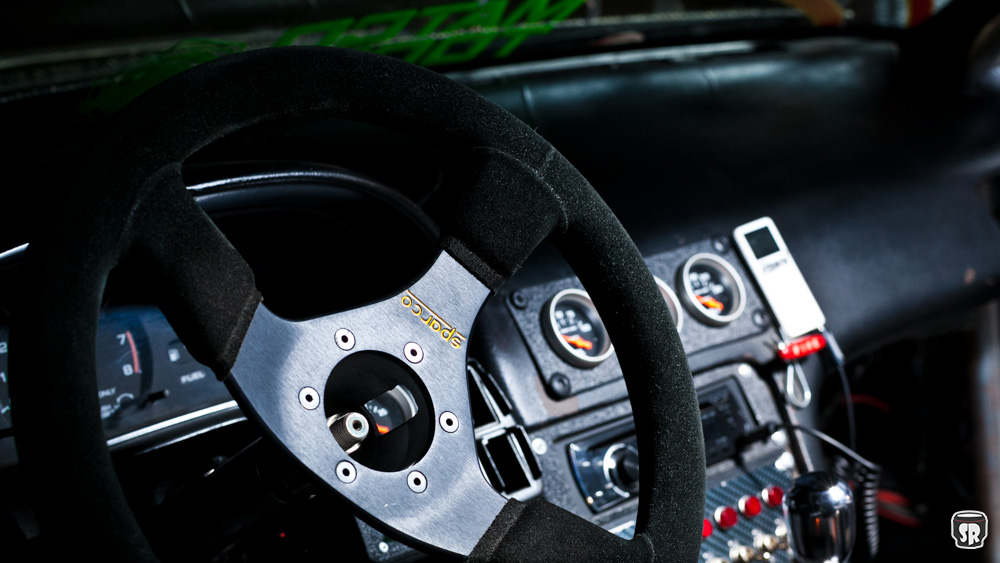 SR: I was at the last round of Lone Star Drift and you qualified for a Pro License for [Formula Drift].
JS: I did! I'm very excited; Lonestar was really good for us because from the 5 events.. first round I got like 7th or 8th and did okay, second round I got like 2nd or 3rd, and for the third round I think I won. Fourth round I think I got 4th or 3rd, and the last, final round I got 4th. It felt pretty good making it into the top 4 everytime; it was exciting for sure. Yeah, I think I qualified third overall in the series and we got the Formula D License.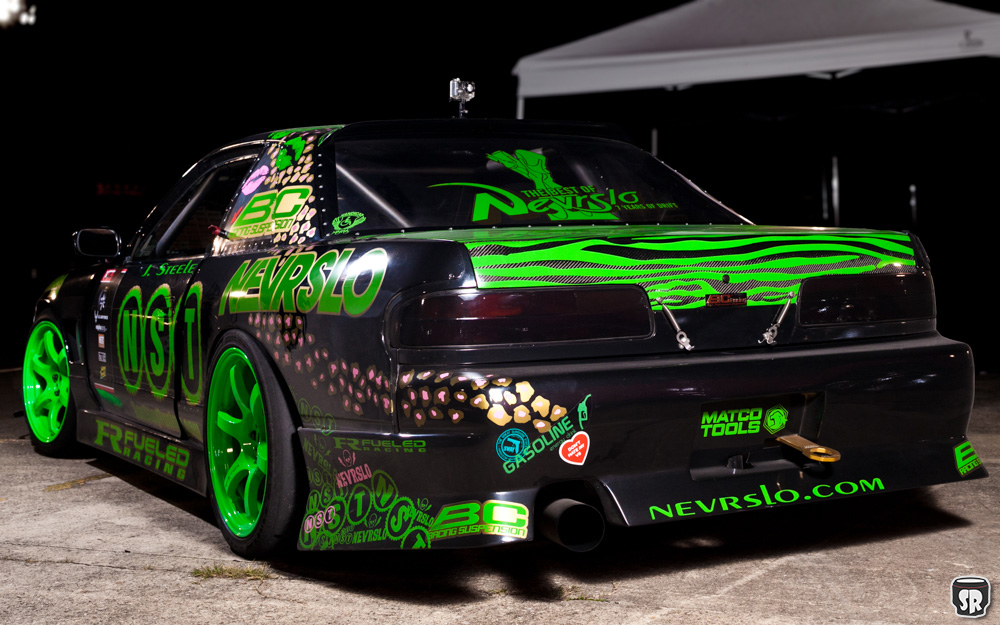 SR: Are you gonna try and make it out to all the stops?
JS: I am! We're doing all of em.
SR: [Wow], That's rad!
JS: It's definitely a commitment.
SR: I know it's gonna be expensive too, right?
JS: Yeah, that's where sponsors definitely come in to play… AND an understanding, soon to be wife will definitely help.
JS: But the way NEVRSLO works is that it all boils down to the shop and drifting and the team and crew and everything's a big collaboration, so it all works together. So if we do Formula D and drive it's promotion for other things. If I roll up in my lifted truck at events, it's promotion for the shop. We do lift kits, drop kits, full paint and body; we build cars just like [my S13]. It all works together, so we may spend like 50 grand to do Formula D for a whole season, but the shop's return could be 200 grand in sales. It all works together.

SR: For guys like me who wanna get started in drifting, how should we go about it?
JS: You know, there's so many different opinions… in general, just a good basis for your car is in setting it up properly. Don't cheat yourself and don't buy cheap stuff that's gonna break. I'd start with a good set of coilovers and get the suspension stiff because you don't want to have a ton of body roll and try and drift… It's little things like that… The better you can set your car up, the better it's gonna help you drive… You know, that's the best advice I can give you.
SR: Helps a lot, actually!
JS: When we were first learning we didn't have everybody. We didn't have Aaron Losey, Chelsea Denofa, Stu and Will and, you know, us guys doing these events and helping new people coming out, and helping them work on their cars. We were all learning like "What the hell?!" I think the way drifting's gone now, it's evolved in a way where there's [not only] lots more people doing it, but it's a lot more people doing it that have been doing it for 8-10 years, so they can definitely help.

SR: Is there anybody you look up to on the pro level?
JS: Chris Forsberg I really, really like a lot. 350Z drifter! (Though now he's in a 370) But I'm actually pretty good friends with him… and actually, we're gonna be working together next year for Formula D with Matco Tools and stuff. Matt Powers, obviously; he's a cool guy for one, and he's a soul surfer which is rad. He drives really well, too. [Vaughn Gittin] JR for sure. It's weird. It's hard to say who you look up to or who you idolize because they're your friends! I've gone to dinner with Chris Forsberg and hung out and been in a magazine with JR, stuff like that. Still, they're definitely good drivers! In my opinion a good driver is someone who can podium at Formula D…I turn into the most humbling person when it turns to Formula D and we talk about Formula D because those guys are amazing, amazing drivers. I feel privileged to have earned a license just to go drive amongst those guys.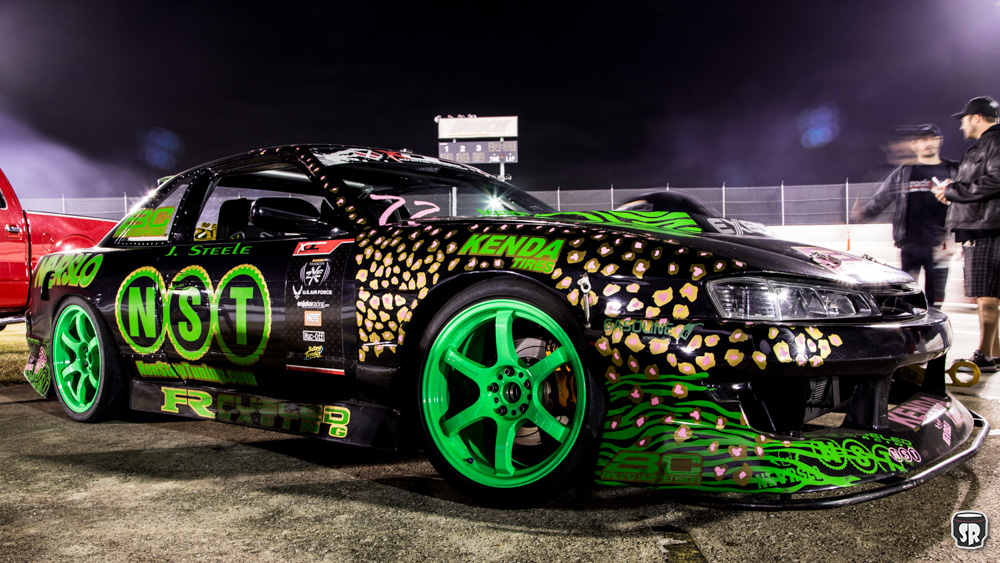 SR: Got any shoutouts?
JS:First and foremost my soon to be wife, Ryan! She supports me big time. She takes care of my fan page, my facebook and everything. Mike at NST, James and Rapper Dan at SIKKY, Erik at Kenda, Brian at Mackin Industries Inc., Shane at Matco Tools and Jennifer at Exedy Clutches. Chelsea Denofa at BC Racing and Cody Slack for the amazing videos during the 2012 season. My Crew for the Nevrslo Drift 2013 season; Stephen, Justin, Mario and Pete. Lastly, my dad for getting better and better at spotting during the tandem battles.
Joshua Steele is the real deal (rhyme unintended, but I'm keeping it). I wasn't able to catch him in action that night, but if you'd like to see him make this car dance, check him out in our coverage of the final round of last year's Lone Star Drift. Of course, you can bet we'll be at Formula D with cameras lit and ready to catch him again!
As usual, more photos in the gallery below, so enjoy!