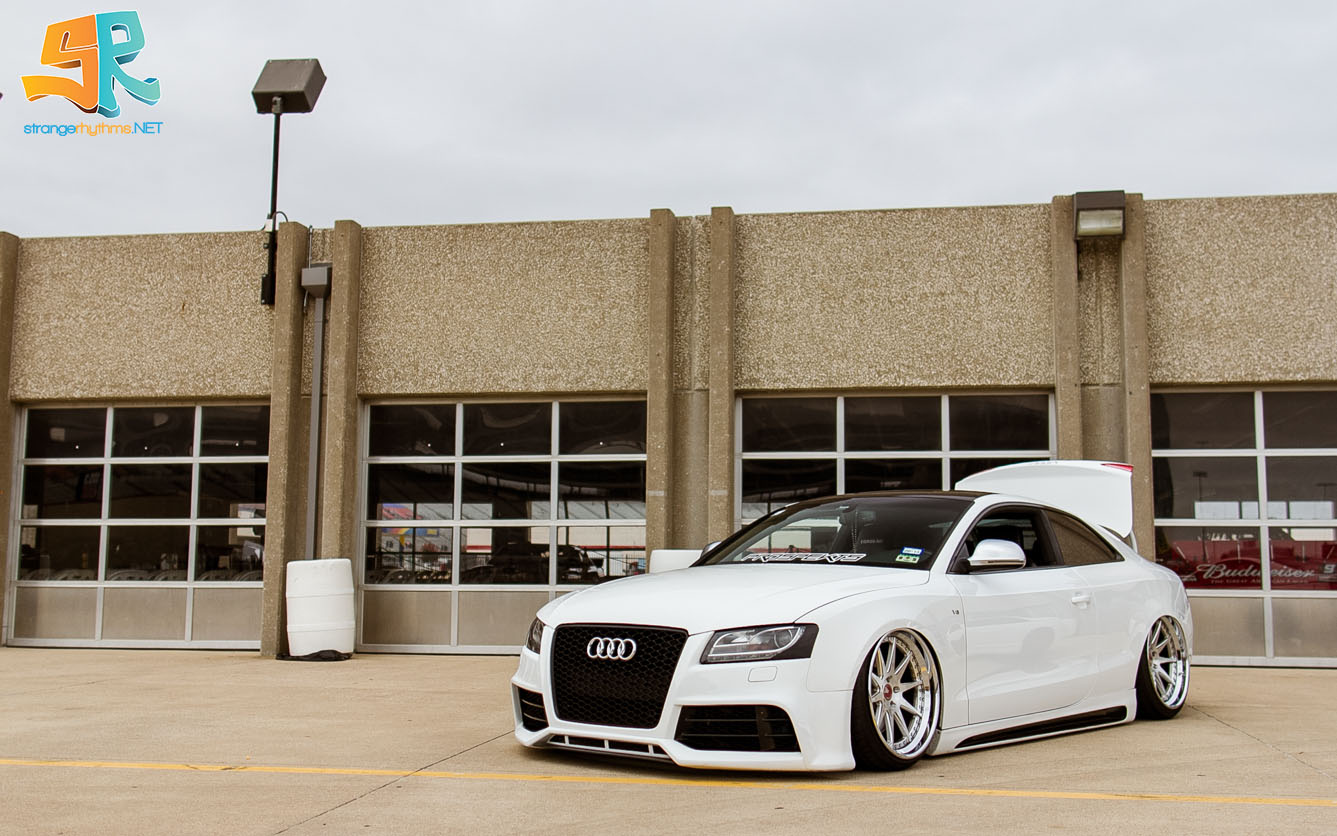 Time is a constantly changing variable that progresses on a linear path. Whether we like it or not, it's always moving forward, and we cant help but plot our own positions in relation to that ever lengthening x-axis. To put it simply, some things change and some things stay the same. In our case, the watermark is new and the pictures are hgher-res, but we're still gonna be those awkward nerds with big cameras.
Around this time last year, Wayne and I cruised up to Dallas to spectate at Formula D (after a failed attempt at procuring a media pass for our rookie blog with an identity crisis). A year before that we were at a Starbucks, only thinking about starting this whole shebang. I mention that because it seemed like my 2014 trip to Formula D this past weekend started on similar terms. Wayne, having to tend to sick, orphaned dolphins, was absent for this trip, but instead I enjoyed the company of some friends who have cars that look suspiciously similar to my own.
It's no secret that my favorite driver in FD is Danny George. No small part is played by the magnificently monstrous Miatas that he campaigns, but the dude himself is just an ultra dense concentration of manliness and beards and bacon and beer and- he's been the kinda guy I can relate to and want to support; he's not the people's champ for no reason. Last year, Danny George's season was fabulous. Since then he's built a better car, gotten better organized, better marketed and put in seat time in all sorts of disciplines. Yet, providence has kept him from capitalizing on the momentum he finished with last year. It's a feeling that hit kinda close to home with recent events, but that's just the way the dice rolls some times. Danny's tougher than that though, so if it's anything that makes the dude so glorious, it's that attitude that's always on the lookout for that come-up.
That said, FD got moved to the back burner of my priorities. Regardless of whether or not I had an FD media pass, I had already accidentally signed up as an entrant for the Offset Kings car show. Luckily, it wasn't like a typical car show where the owners have to wait around for judges, so I was free to explore and click the fotomajicka.
I'm not gonna lie, I was actually really excited to see the car show. They can change the name all they want: Offset Kings, Slammed Society, Hellaflush, 1of1- it's still gonna be super low cars getting their shine on.
I don't exactly hide my bias towards Miatas, but if you've been watching the StrangeRhythms instagram (and you really should), you'd know that I was particularly excited to see Nathan Taylor's hella dumped MX-5.
I mean, of course, there's that slam, but THAT INTERIOR THOUGH. It's this kinda stuff that puts the VIP guys on their toes.
Speaking of which, one of the winners in the VIP category also had my favorite car there. I'm generally anti-anything that's Prius-like in any way, but sweet Jesus this car is perfect. The kinda girl you put a ring on and settle with. The cute one that your mom likes, especially because she hated your ratchet ex.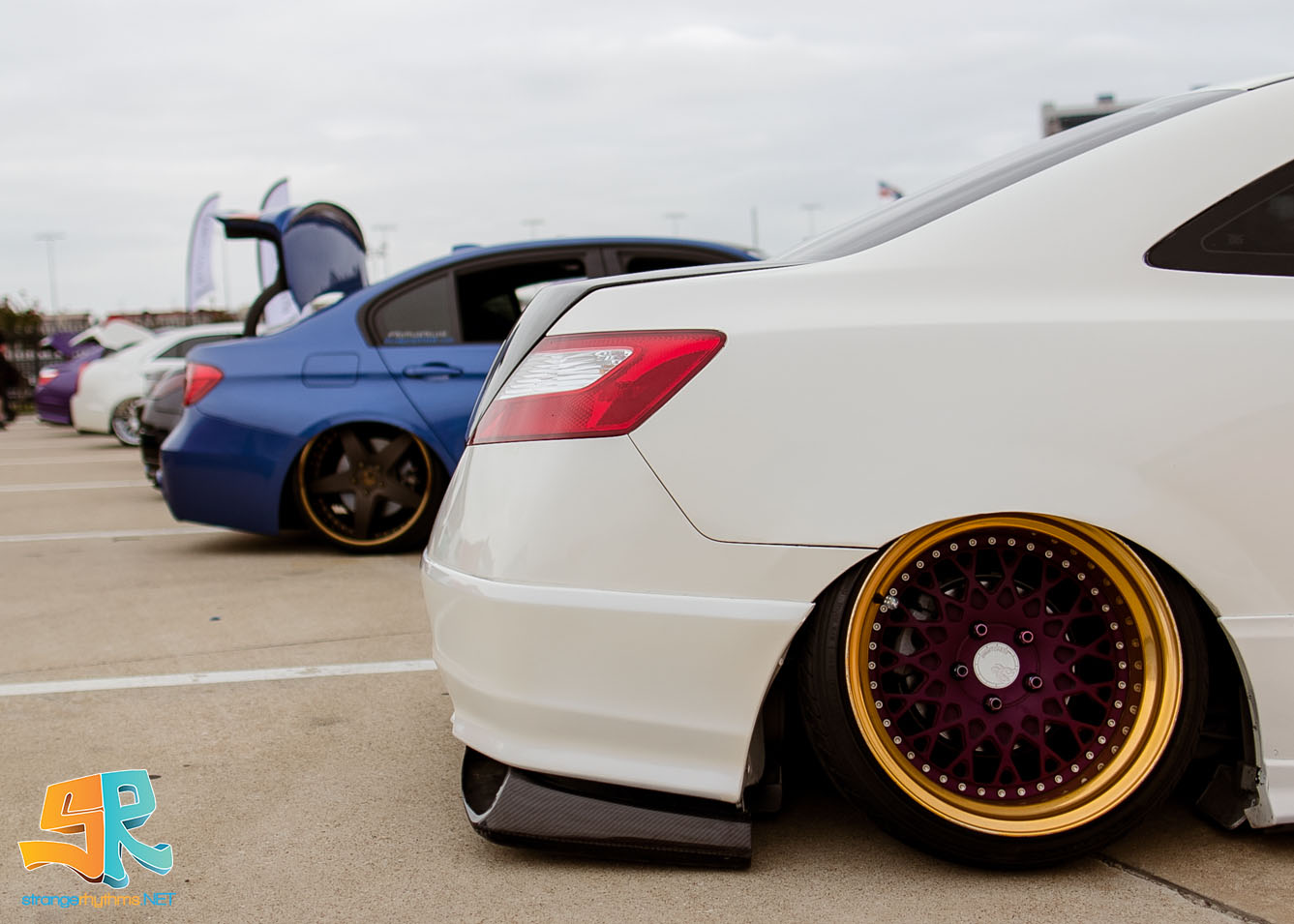 On the wheel side, this White Civic's Avant Gardes had me drooling. Favorite rims at the show by far, even if just for the color scheme alone.
Buuuuuut, I cant just go to FD and not watch some skid racing. 1/40s at 100+mph is something I want more of. Been super in love with this photo of Robbie Nishida killing some rubber all week. Butteriest drift photo I've ever taken.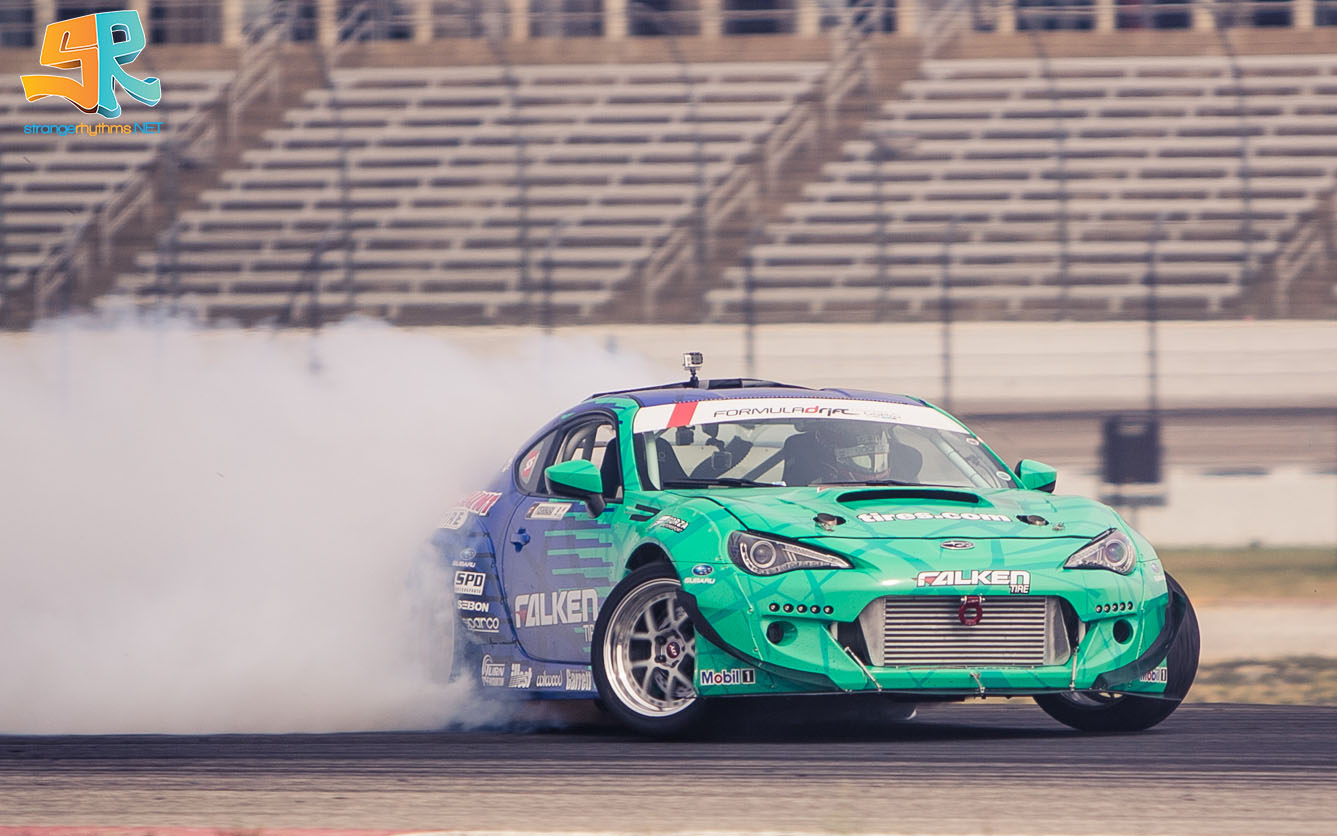 Then again, it's nice to chill out for a bit. Funny thing about the move from Pro-Am to Pro, my settings that would normally freeze a Pro-Am drift can't quite contain the hectic motion of the big beasts like Daijiro Yoshihara's 1000HORSEPOWER BRZ. Just writing that sentence got my palms clammy.
While I am a huge Miata fanboy, Danny George wasn't the only driver I was rooting for this season. I of course have mad love for those Non Stop Tuning 86's!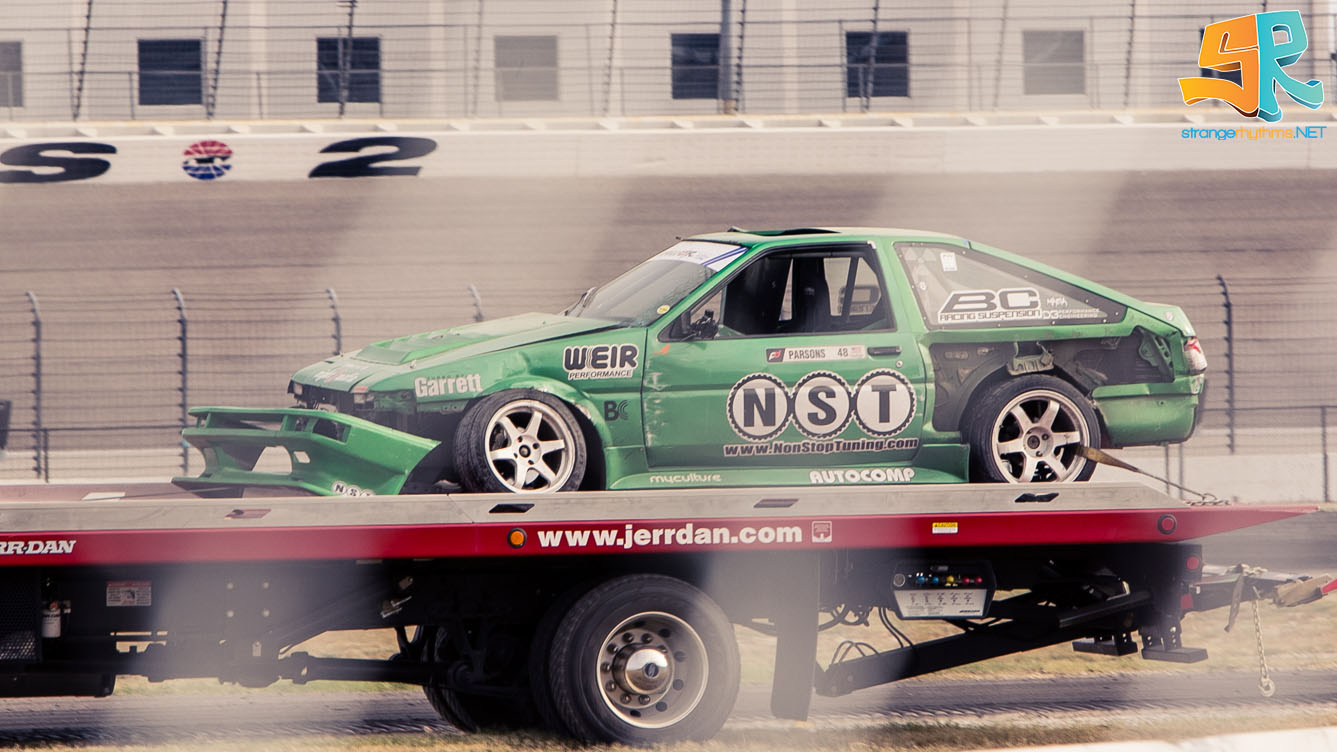 K Then. Guess we're not allowed to have nice things, thanks TMS. Seriously though, that was bad and definitely a feeling hurter. Taka and Will are awesome dudes and have been fighting an uphill battle with this chassis. With how Formula D is run, them being as competitive as they are is a true testament to their skill. FD doesn't have enough drivers who are willing to slug it out on the tougher path.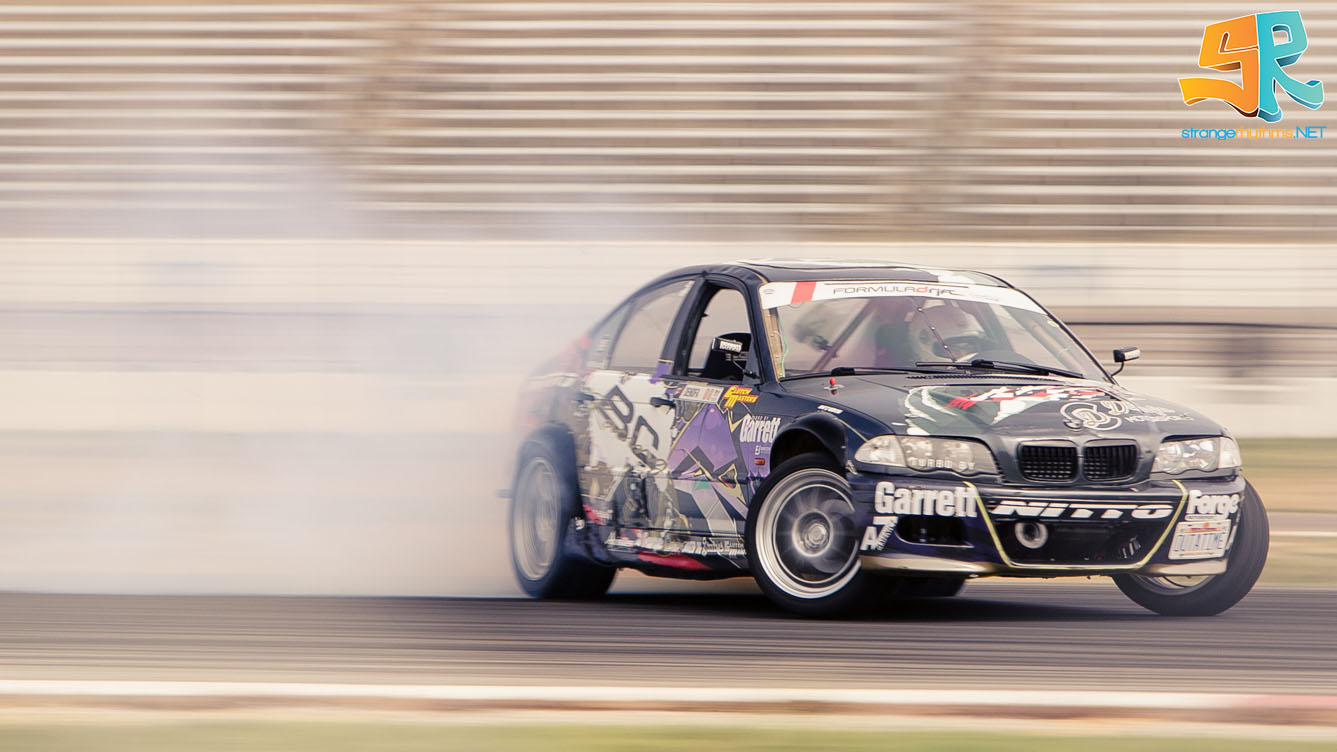 Chelsea Denofa's another hometown hero I rooted for though. This guy picks up a thousand new fans with every event, with his ridiculous driving. I think if you look him up in the dictionary it'll say "see: rowdy."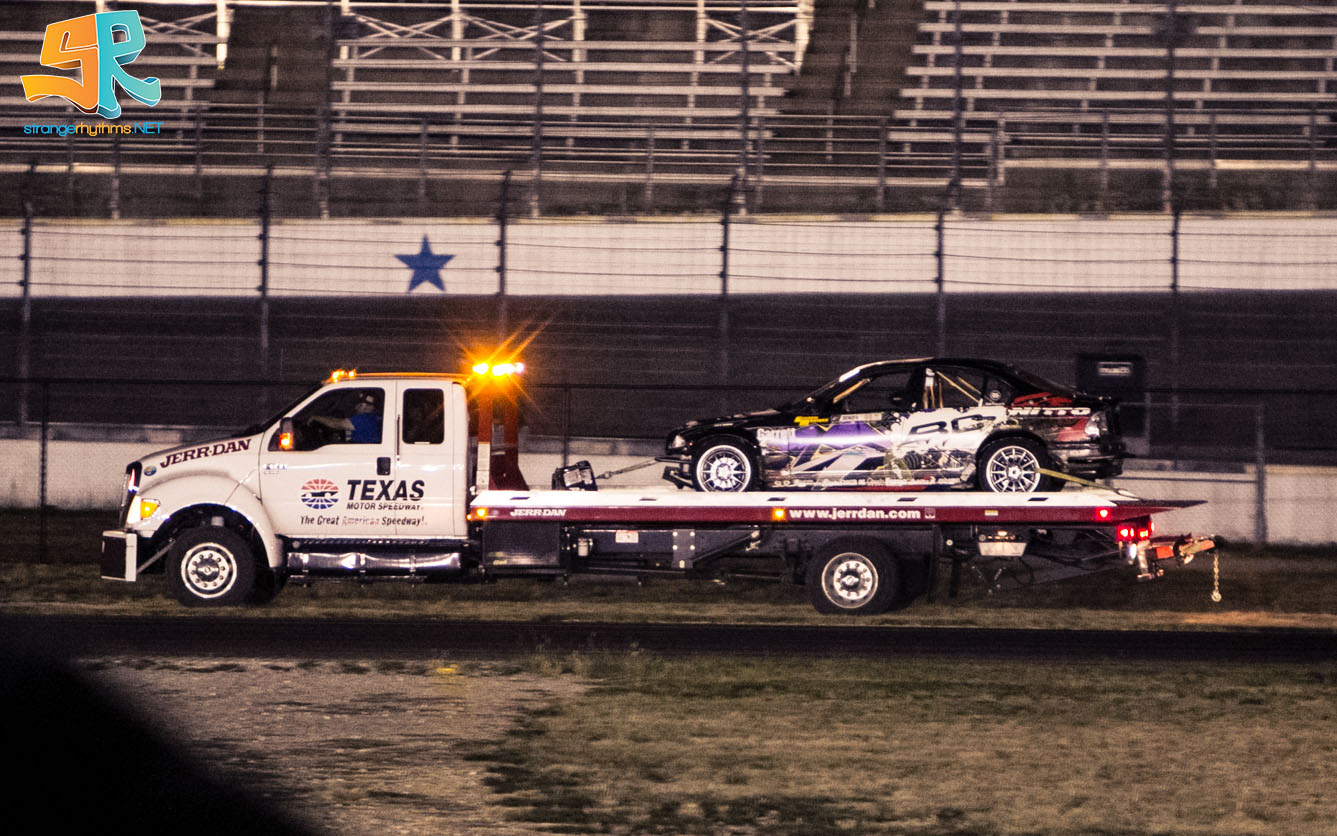 Yeah. Everyone got REAL tired of seeing that tow truck. Chelsea's car actually broke twice in the top 32 and I think it's technical things of that sort that have kept him off the podium. There needs to be a gnarliness rating on the parts he buys for that car going forward.
Anyway, with all my favorite drivers out of the running, the evening just became a series of matches filled with rooting for dark horses left in the top 32, which is pretty much everyone without a DriftAlliance sticker.
The Norwegian Hammer obliged to fill the role in my search for a hero.
Frederic Aasbo's driving was Quern-biter sharp all night. Yes, I went and looked up awesome Norwegian swords just for that reference.
And… DriftAlliance got shut out of the podium entirely. That was actually extremely surprising, considering how insanely consistent Forseberg's been this season. Just like last year, Texas is always shaking things up. It's fun to read the conspiracy theories circled around by amateur drifters watching intently as their friends go on to Pro and a lot of them seem to feel like Texas has been engineered specifically to shake the rankings purely to sellout Irwindale every time. I don't know if I subscribe to that theory exactly, but I could see it working.
StrangeRhythms didn't apply this year for a media pass, but after just imagining what it'd be like from different angles and… without… people in the way… Let's see how we feel in 2015. I hope you like cars.
-Ryan