The 2012 All Team Bash was originally to take place on October 21st at Bear Creek Park, as it had in previous years, but a recent change of policy (and pricing) nearly had the massive Texas car meet canceled. Luckily, some bright minds saved everything and decided to bring the event together with Import Face Off's yearly drag racing competition at the Royal Purple Raceway in Baytown, Texas. The weather was fantastic, the turnout was huge and the cars were fast.

Import Face Off by itself already had a pretty sizable car show. It still focused on class divided drag race battles, but the show was nothing to sneeze at. With the addition of the social crowd and swarm of tuners that All Team Bash brought about, it really became a special festival for car enthusiasts.

Competition during the drag races was fierce. Hard to believe that cars that started their lives as grocery-getters could be turned into sub 10 second fire breathers that sound like machine guns when they take off. BNB racing brought out a whole lot of beastly machines.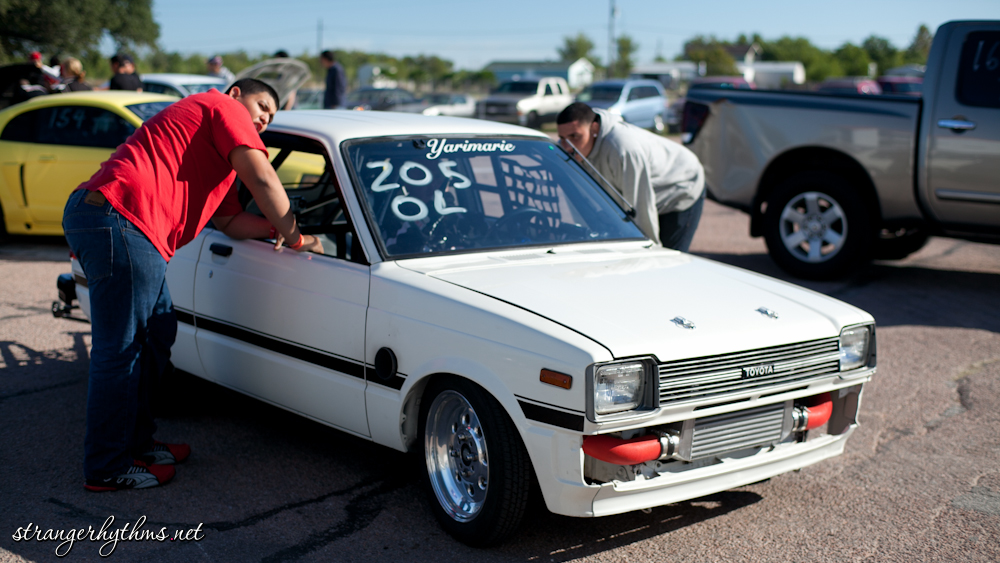 There were also a lot of teams that had some family built race cars. I think this classic Toyota Starlet is the first time I saw a car that was simultaneously adorable and vicious. It just happens when you strip a tiny car, tweak its heart and throw massive race slicks and a wheelie bar on it.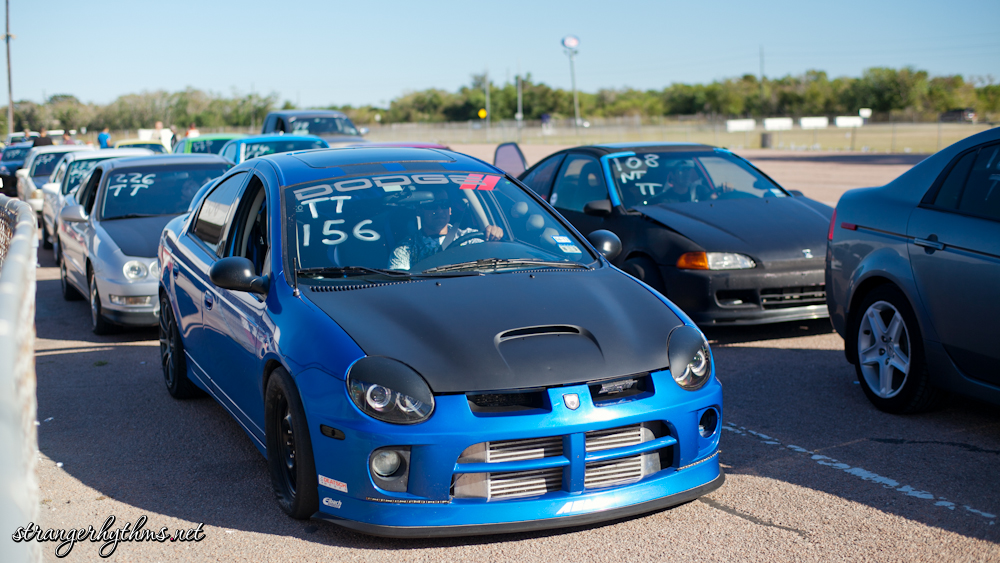 Once the cars competing in the face off finished their runs, the track was open to the guys who just wanted to test and tune. The line for this stretched pretty far and included vehicles that were a whole lot more streetable, but not that much less brutal.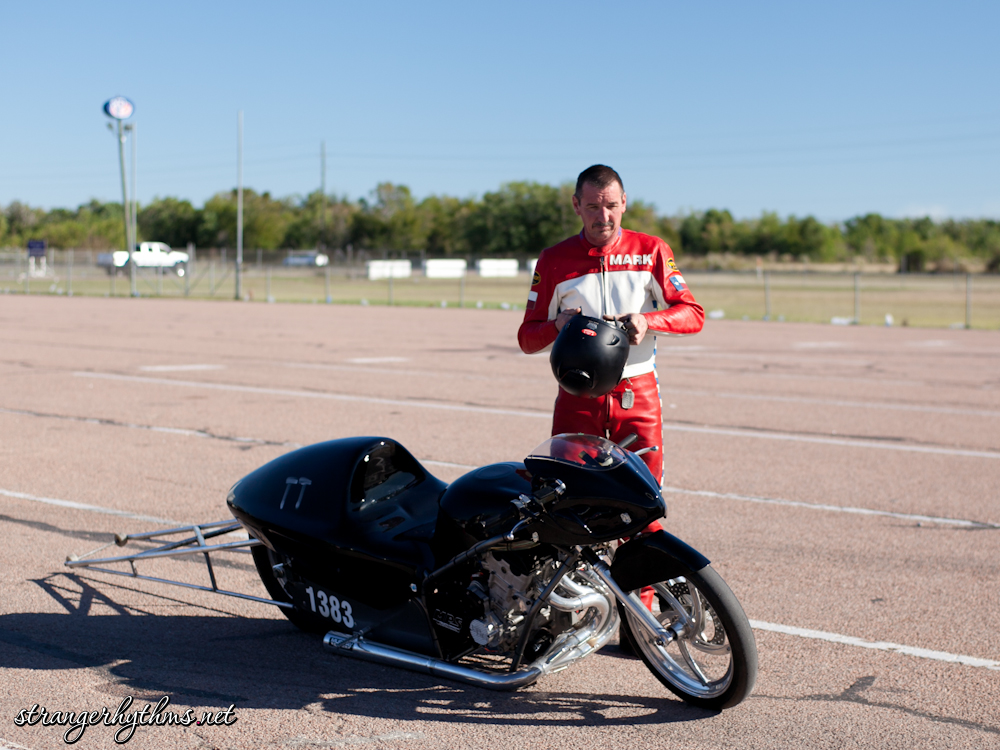 There were a few riders with drag bikes who wanted to get in on the action.These bikes are no joke; I can't imagine how much inner fortitude you gotta have to cling to this thing at 200mph.

On the other side of the stadium the car show was in full swing with rows and rows of vehicles from a variety of car clubs showing out.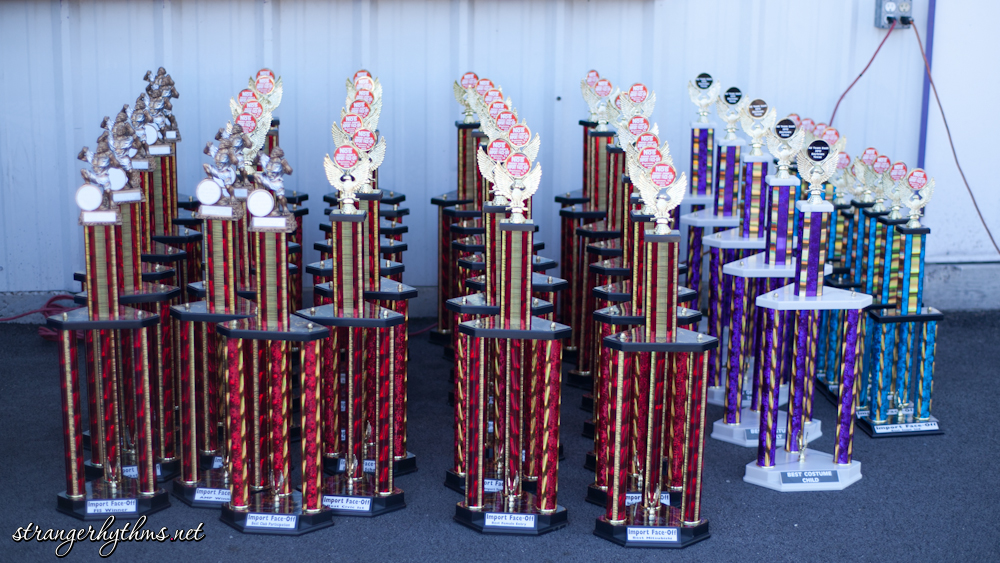 There were rows of trophies to match the cars. Competition for the car show was no less enthusiastic with categories for makes, models, teams and different configurations.

Judges would make rounds inspecting every inch of cars. When everybody's looking this good, they had to dig into detail to discern an opinion.

I found myself making rounds as well. I wandered over into a group of cars built by CMS performance. This S14 had a heart transplant from a Turbo Supra. These guys don't monkey around.

Sorry, yes, that set up was fully intentional.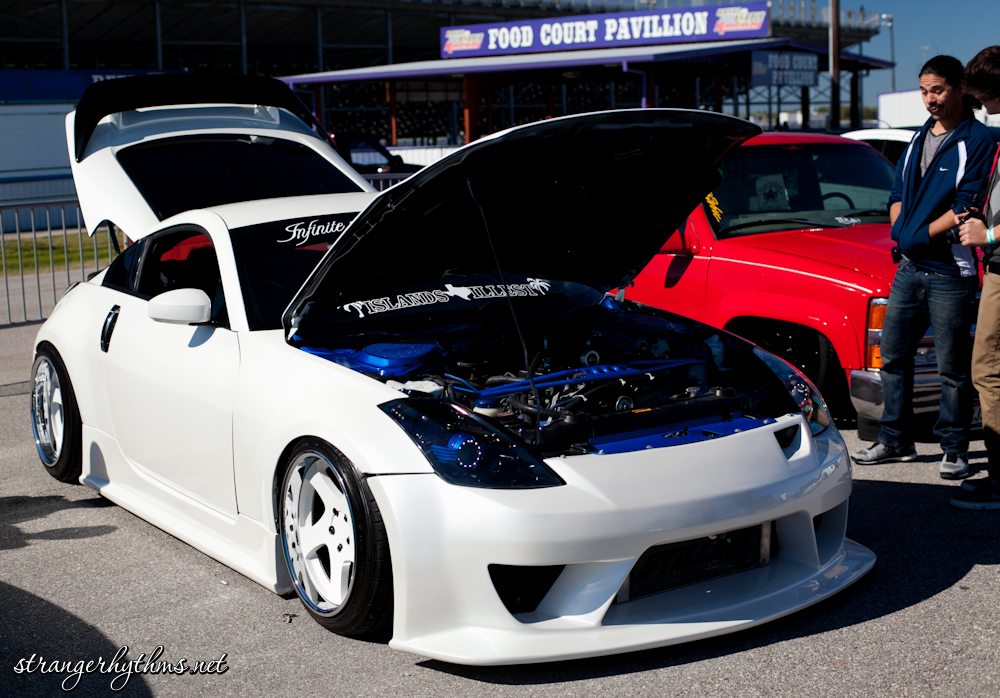 I thought this 350Z was just stunning, and it happens to be wearing my current favorite wheels at the moment. These Rotiform TMB's don't find themselves on nearly enough cars.

I love MR2s and thought this one was just perfect. Kind of like the cutest puppy, I wanted to find the owner to ask if I could have it and take it home.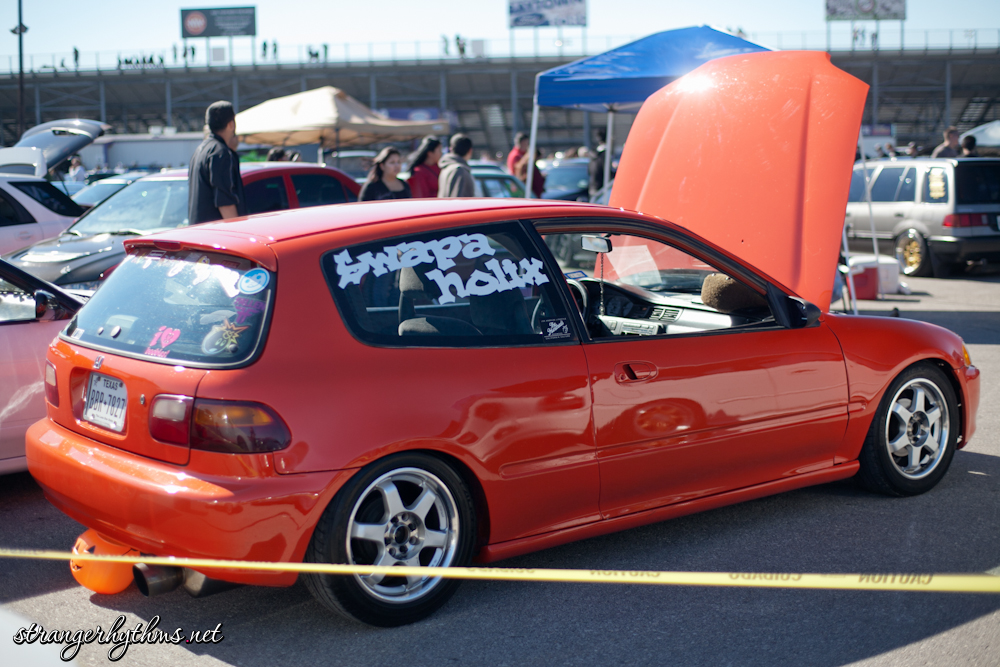 As I was wandering down a row somebody called my attention. The owner of this Civic's brother had to show me this car and get me to take a few pictures. It's a pretty clean build from the Swapaholix car crew. They're a bunch of friendly guys and were everywhere throughout the show supporting each other. I can definitely appreciate the tightness of a club like that.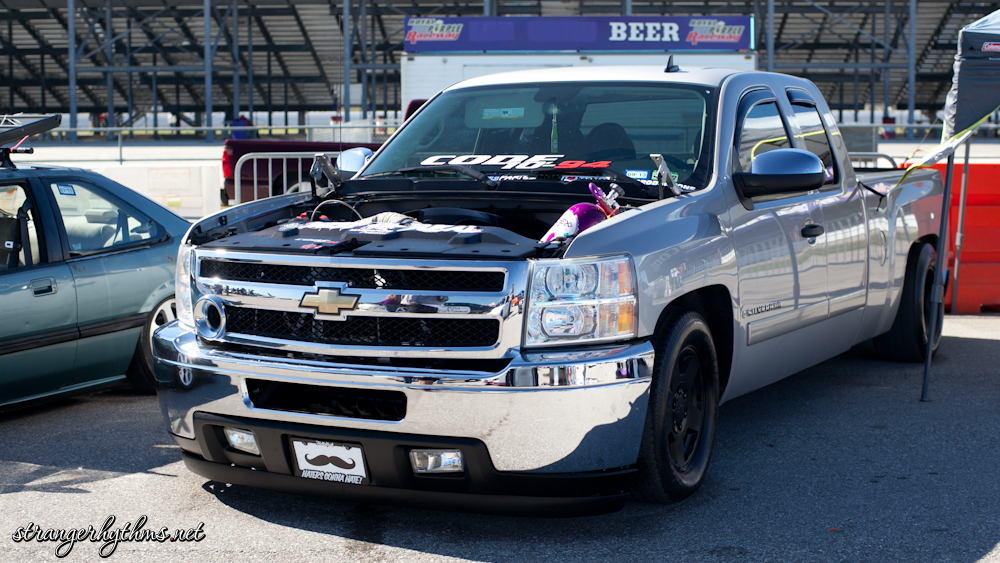 Before I made my way out of the show and into the race pits I stumbled upon this truck that I REALLY wish was running in the test and tune. Peep the slicks and the bottle of nitrous peaking out of the engine bay. This pickup is serious.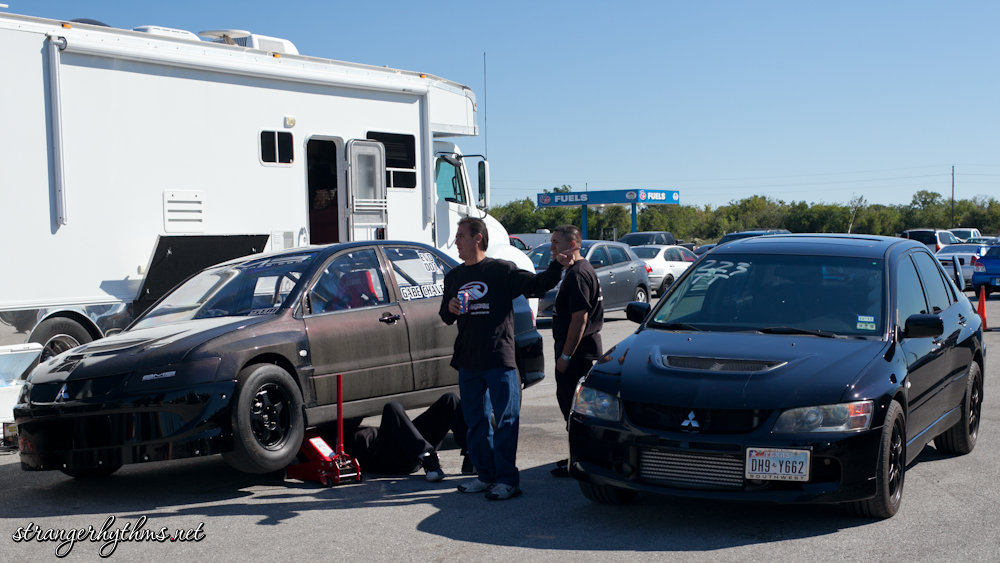 Out in the pits were a bunch of crews fixing and fine tuning the cars for their runs. I spotted a couple wicked Evos. The one on the left had every panel made of carbon fiber.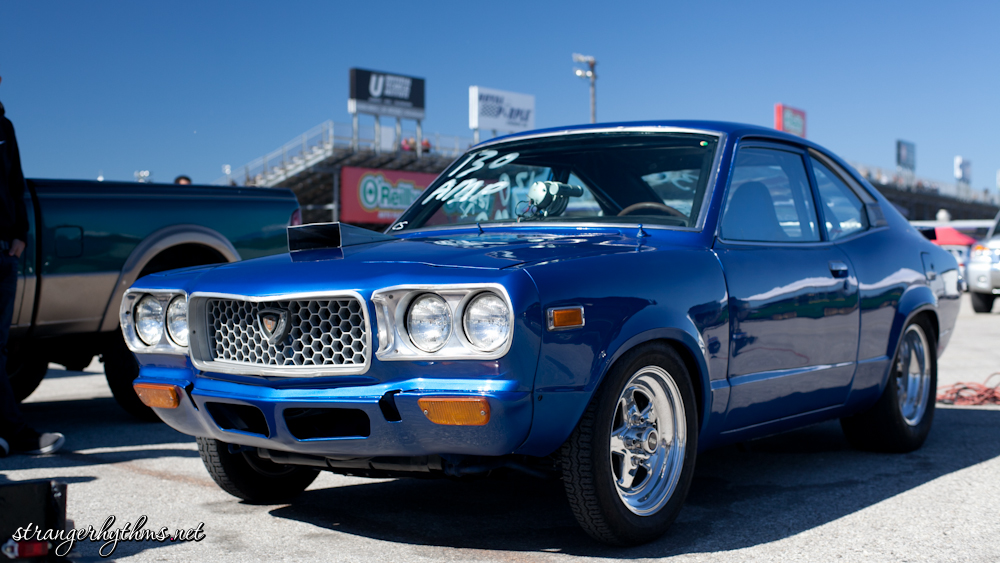 This RX-2 is a classic. It was sitting so pretty that it really should have been in the car show.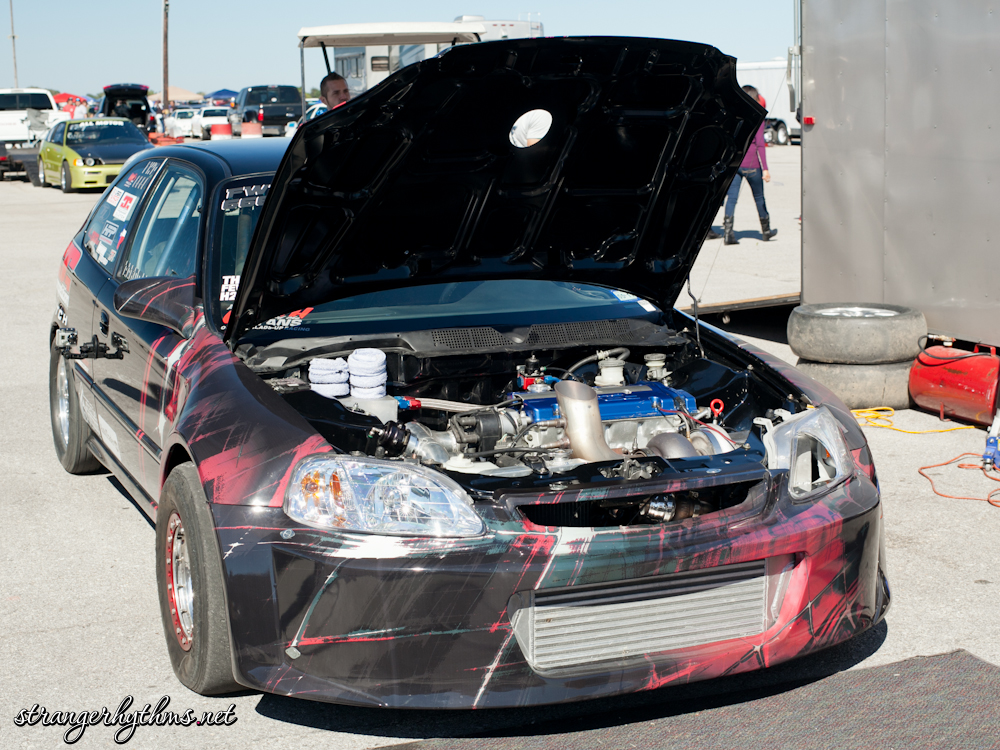 Check out the size of the turbo on this Civic, it's like a small child attached to an exhaust manifold.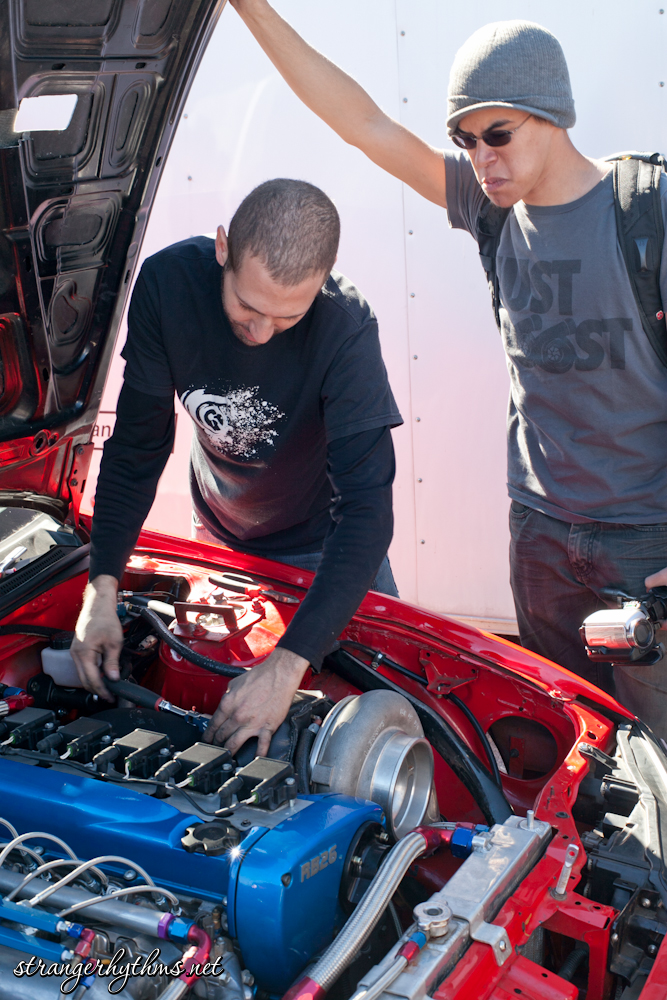 Not to be outdone, the snail on the RB in this S14 was gigantic as well. That guy and I made about the same face as we took a peek.

This Eclipse GSX was crouching in the crowd of Hondas looking ominous. I remember in the early 2000's this was the street fighter. DSM's were the most common car you'd see murdering everyone at the track and then driving home (possibly murdering things on its way).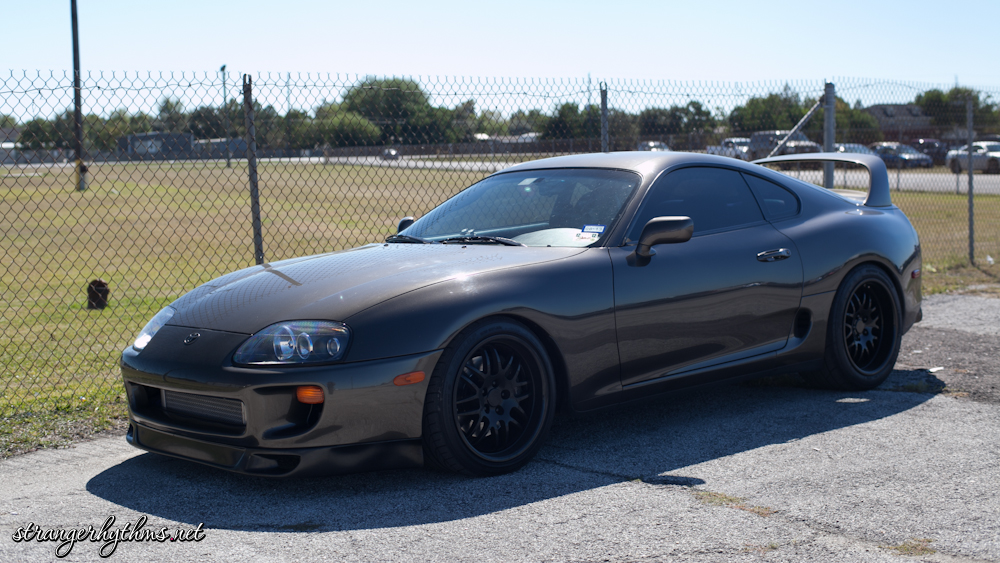 On my way out of the event I saw this Toyota Supra to the side of the entrance gate. It's really a fantastic car with a look that's really good at staying fresh.

My uncle once told me that he's not that fond of modern car shows because he can't tell the show apart form the parking lot. A lot of the cars on display are daily drivers and not garage queens. I like to look at it a different way. A lot more people are casually approaching car modifying. The modern everyman will happily drive something cool everyday that they built them self rather than shelter it in a preservation bubble. I'd like to use this classic Corolla with a rotary engine as an example. Despite how well restored and potentially quick it is, it wasn't at the show or on the track, but instead sitting unassumingly in the grass and dirt parking lot. That's the modern car enthusiast.
I could go on all day, but this page has gotten pretty long as it is, so feel free to check the gallery below.