I'm not usually one to make use of pop culture puns when subtitling things, but that's probably because I need a +2 attribute to my clever wordsmithery trait. In any case, "A Game of Cones" was the real-deal, legitimate subtitle to the other weekend's action packed day of tire slaying. I couldn't find time to stay for the competition, but I was definitely there long enough to exchange a couple high-fives, greet some old faces and put my cameras to work.
Last time I attended LSD, I got up bright and early to have breakfast with some 86Garage Members. We had pancakes at dawn then made a collective cruise down to La Marque, Texas for some doriftu festivities. As far as I know, the guys didn't have anything planned this time around so I just showed up at the earliest my bones felt would be convenient. I made my way into the venue and found a familiar spot next to some familiar people.
Rob and Jonas were early for the driver's meeting and were already at work getting their cars ready for action.
Elsewhere in the pit area I ran into Will Parsons. His car looks pretty similar to the one that he used last year, but adjust your eyes, this is the whole new build that he's been running in Formula D.
A turbo'd engine from an S2000 is at the heart of this little hatchback, and the combination makes for one baaaaaaad Corolla. It's had some kinks that needed ironing throughout the season (that Will and his crew were even fighting with that morning), but once everything gets under control, the usual suspects in Formula D's Top 16 better watch out!
I also spotted our other home town hero, Josh Steele, activating the smoke screen in the new S14. His driving's always so sharp, and I'll be damned if that isn't a good looking car. I seriously have no idea what problems the Formula D judges are harboring against the rookies this year.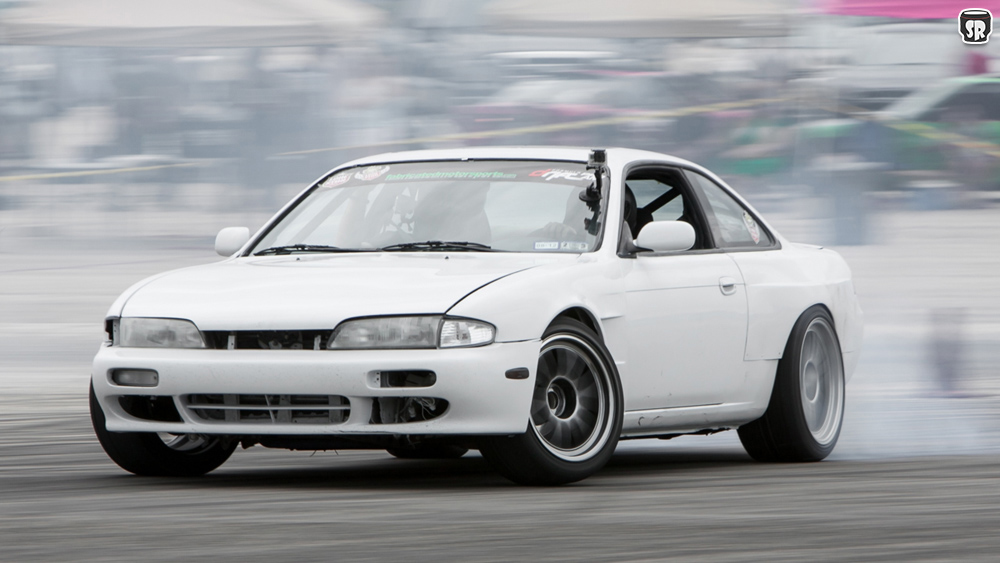 Another S14 I'v'e been eager to see in the flesh is the one Aaron Losey had been building in memory of late drifter Tyler Cox. Check out the build thread and story here. It'll warm your heart like a cup of hot cocoa. Yes, I know it's June in Texas.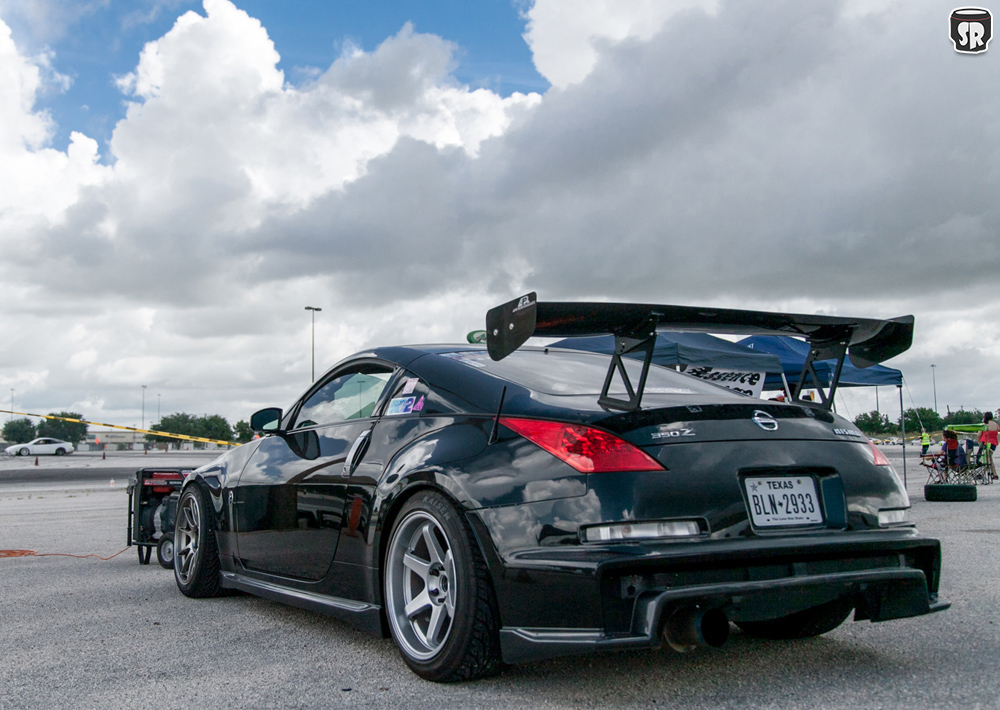 But if you can forgive the heat, the weather was actually pretty nice all day.
Well, except for that part where it rained super hard and the wind blew everybody's tents away. It did pass, however; not that it was stopping anybody's fun on the track.
But I did decide to call it a day at that point. The longer I stay out there, the more I want to join in and that's a slippery (expensive) slope I'm not sure I can afford to dive into yet.
There are a bunch more photos in the gallery below, but there's also even more at the gallery HERE and on AutoEssence HERE.