Last year, Wayne and I headed up to Dallas to see Round 6 of Formula D. I got to meet some of my multimedia role models and favorite drifters. I finally was able to experience professional level drifting in person for the first time and it was an amazing experience… But still, I wasn't satisfied. Why? I wanted to see the action as a photographer, shoulder to shoulder with my idols, not through a fence and over them. So when Aaron Losey got Texas Motor Speedway booked for a round of LSD, Wayne and I couldn't resist making another roadtrip up to play pro in the tracks hot areas like we were important or something.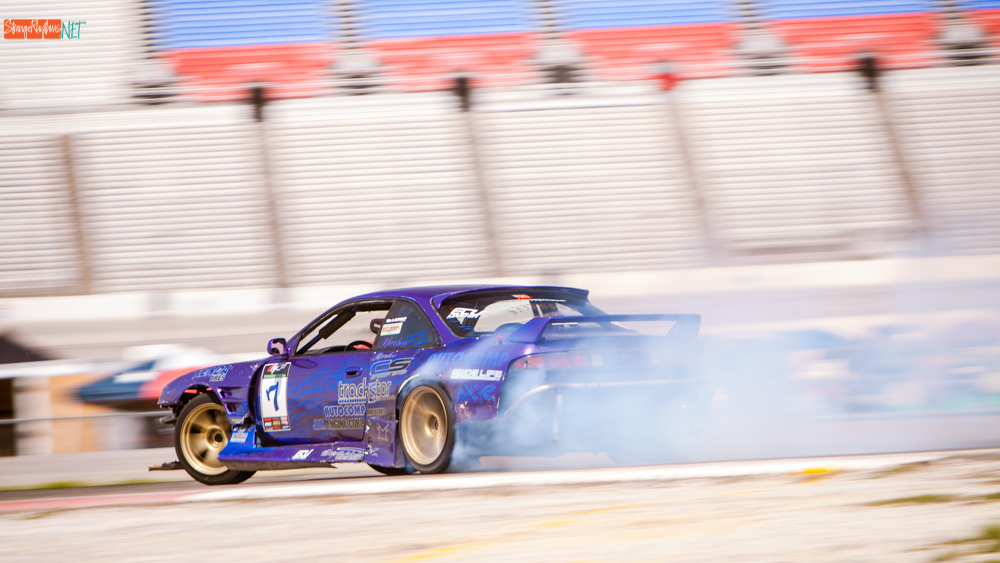 It's kind of an admittedly dorky fantasy to harbor, but I see myself on my A-Game, panning 1/60s on Danny George mutilating his Hankooks up the bank. After NAILING the shots, I fistbump Larry Chen and high 5 Andrew Bohan from behind the barricades. Yeah, the only licensed Hard Card I hold is one for supreme dweebism.
We started the trip by joining Mayday Garage on their BigD Run. The BigD Run is, in essence a rally run very similar to the Lone Star Run that they held during Formula D weekend last year. However instead of the target being the Slammed Society car show, they would be driving to the StanceNation car show instead.
Lots of fancy whips met up for the cruise and the pack leader was Jessyca Blood's consistently stunning IS.
Jessyca led our merry bunch of hard parkers 6 hours to Dallas. Wayne, Thanh (our hitch-hiker/guest) and I took turns doing rolling shots of the other cars to moderate degrees of success.
After a quick stop at In-N-Out, we parted ways with the Big D run and headed to Roanoke to prepare for the next day of drifting.
The track was as brutal as ever. Wayne had a field day with shots like this because he apparently enjoys watching people break their stuff like the sadist he is.
I've commented on the dip from road to dirt before, but to actually be able to step on the track and see it for your self is terrifying. I hope to drive at this track next year and I already know that dropping a tire is going to end badly for me.
A handful of drivers were getting it down though, but I suspect they may have been here before. Hmm.
Halfway through the day drifting took a break and a few time attack cars took over the course to see how they stacked up against some of the more powerful drift cars. I was obsessed with this Mustang.
I'd say that Will Parsons and Dwayne Ramsey gave a good battle, but I'd be a liar since they were actually lapped fairly quickly and dominated by the grip monsters. To be fair, 500hp vs 500hp isnt exactly even when one set of cars are only hooking that power 60% of the time at best.
Once time attack break was over, drifting picked back up with a vengeance. With the added thrill of competition, everyone steps their game up like it's do or die. The plusses of that kind of motivation on a high gear, high speed track? Smoke. Everywhere. You could roll it up and chew on it.
Dwayne Ramsey pretty much Brummm Pssheed his way to a win this round, but I'm willing to admit that I haven't been following the points race this season to see what it means in the grand scheme of the series.
In any case, he seemed happy about his results anyway.
Wayne and I were both out there so feel free to indulge further in the gallery. Also, if anyone was at round 4 driving and couldn't find any of photos of their car, send me an e-mail and I'll see what didn't make it past the cutting table.
Ryan's Photos:

Wayne's Photos: