Round 5 of the Lonestar Drift Series was the end of this year's season and would serve as the culmination of the point race for guys striving to get their Formula D licenses. With the recent SEMA announcement of a long awaited Texas stop for the next season of Formula D, things were getting big!

I started the day at 7:30 in the morning by making a short trip up north. I was invited to join a bunch of AE86 owners for breakfast before the event. Granted I drive an entirely different kind of 86, these guys are still the coolest bunch of cats. It was a really nice way to start off the day.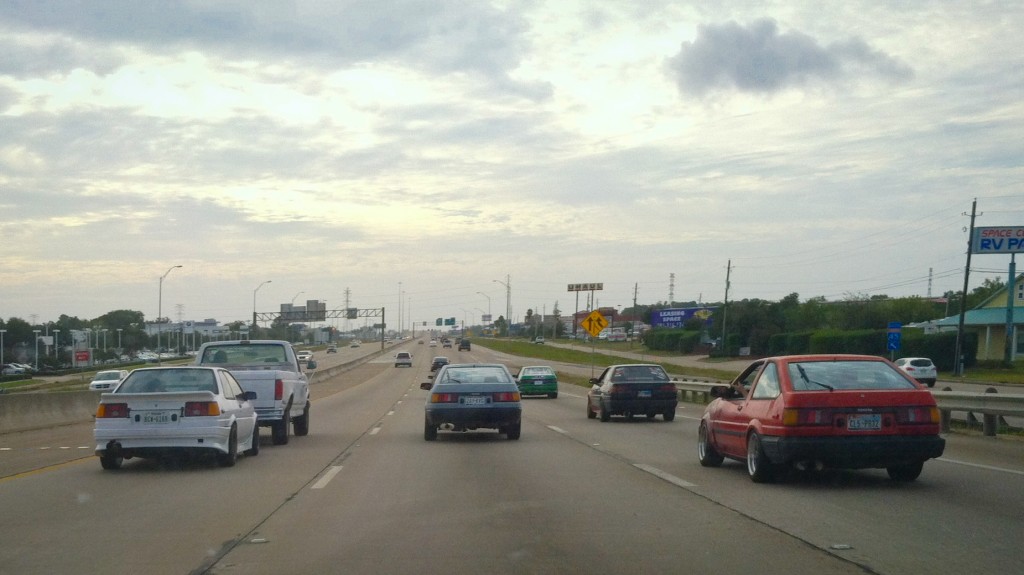 After some pancakes and things we all cruised down to the event. We had a nice swarm going on the freeway. I wish I could have taken a picture with something other than my cell phone, but handling the 5D with a manual focus lens attached was proving to be a little unwieldy while navigating my car at seventy miles per hour.
The event was being held at Gulf Greyhound Park in LaMarque, Texas so we didn't have too far to go. We picked a spot and some of the guys put up a canopy. The owner of the white 86 in the previous picture is this dude, Jonas. He's a great guy and also runs 86GarageMagazine so go grab a copy!
Elsewhere in the pits other drivers were arriving too. Scope the gnarly wheel on the trailer. These guys had a tire blow out on the interstate but they kept rolling along anyway. I forgot to check to see if they slammed the trailer on Works at the end of the day.
Navigating the pits was no small trip, so a lot of people got around via bicycle or skateboard. I guess this one should be called a skrapeboard. I had no idea you could actually ride these things.
The most common site was that of drivers working on their cars, whatever that entailed. Mario Gomez was looking pretty focused that morning. I may be foreshadowing his A-game with that sentence. Or that one.
Brad Burnett missed the HachiRoku breakfast this morning, so I tried to sneak a flick of him. He caught me and gave his signature camera greeting though.
It was great to see some familiar cars make it out from the day before. The Bimmer that made 582 horsepower looks like it's ready to show that it's no dyno queen.
I was lucky to also meet a bunch of other media outlets. I met someone from MaydayGarage, the guys at CinemaToast (who I actually ate with the night before and didn't realize it), got to know Than from AutoEssence a little better as well as a few of the guys from WhatTheFitment. I actually snapped this shot of their cars and didn't know it. Makes sense though. It'd be weird if they had F-150's on Super Swampers.
Aaron Losey was eventually ready to kick things off. I believe he owns Fabricated Motorsports and is the driving force behind the LoneStar Drift Series. He also happens to pilot the mean V8 S13 from the previous post. This guy embraces the phrase "do work."
Aaron called together all the drivers, volunteers and media to lay down the ground rules. Most of it was about safety and etiquette. To put it simply, he told us not to do anything stupid (run anyone over or get run over). No arguments here.
There were two courses to play on, a small course and a big course. The smaller course was a bit shorter and had lower speed, but talented drivers were killing it all the same. Really though, this guy was making his Datsun dance like it was easy.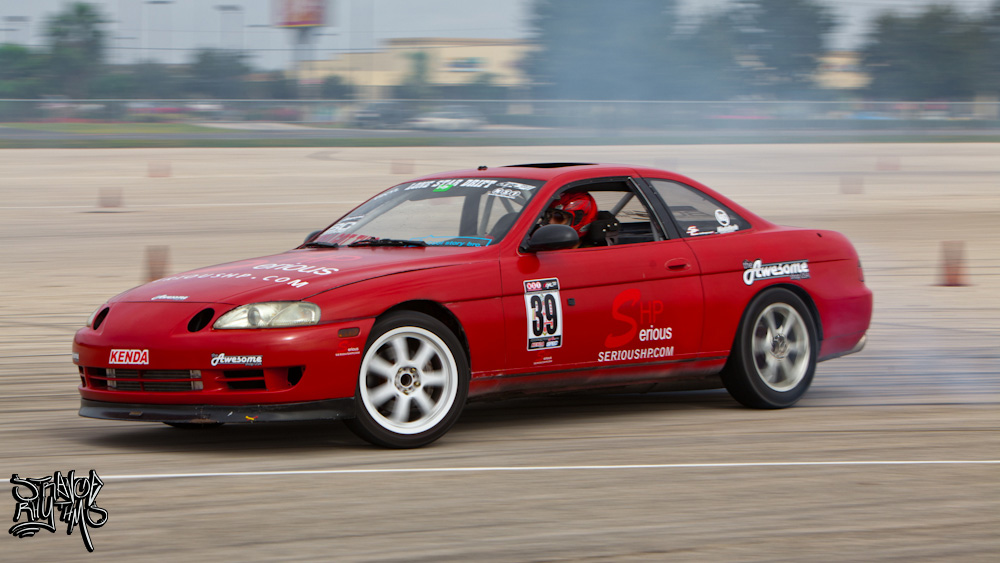 A lot of guys went straight to the big course, so they could get as much practice with it as they could. Sounds like a good way to learn the layout before qualifying.
A fair amount of drivers took to the big course simply so they could have room to run tandem. I heard these two Z's came out from New Orleans. They had some wicked coordination.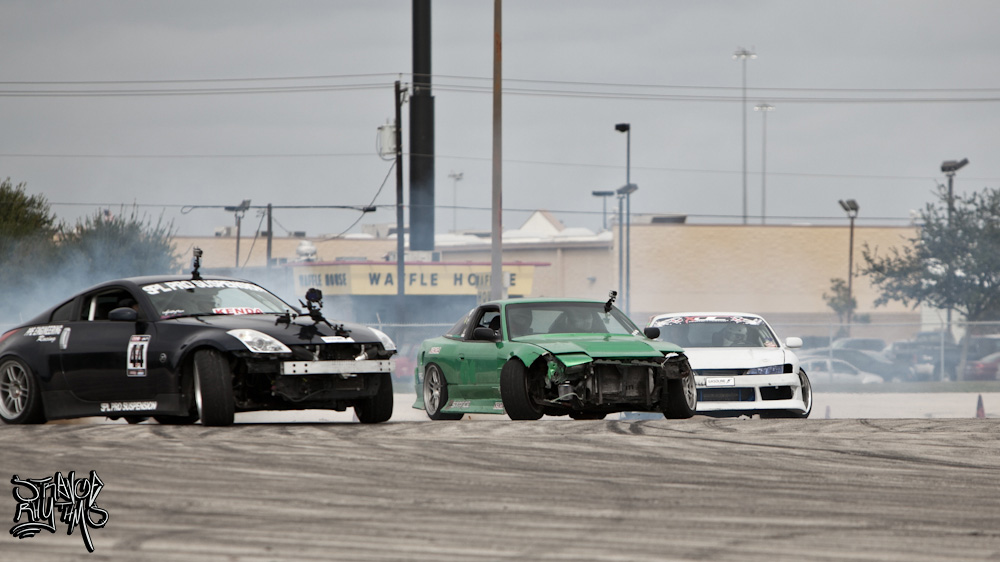 At one point Mario Gomez, Aaron Losey and Fielding Shredder were part of a pack of five or six guys going tandem. It was awesome to see, but it didn't end as smoothly as it could have.
The wreck wasn't really that extensive, but it put Aaron's car out for the rest of the day. He didn't seem too bummed by it though. Later on he mused, "Today was a good day, didn't have to use my A.K." Obviously, you don't quote Ice Cube when you're feeling down. It's a rule. Look it up.
Some may remember CMS Performance's car from All Team Bash last month. No monkey business here. The car was out on the course going gorilla. Seriously, that smoke is bananas.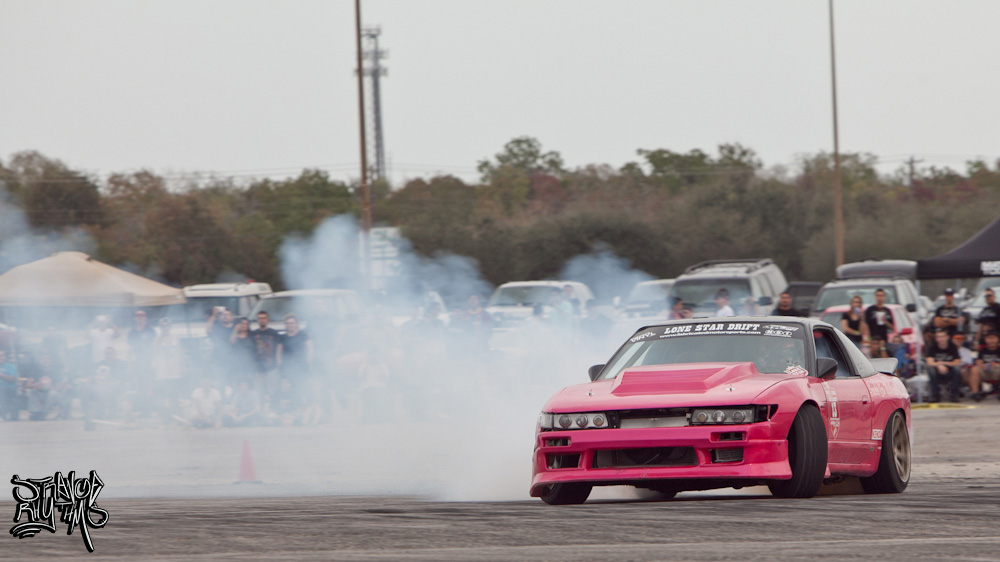 When qualifying started it seemed like everybody took off their limiters. Than from AE was advising me on where to stand since drivers weren't planning on pulling any punches. True enough, competition made things fiercer.
The tandem runs were super close with cars nearly on top of each other.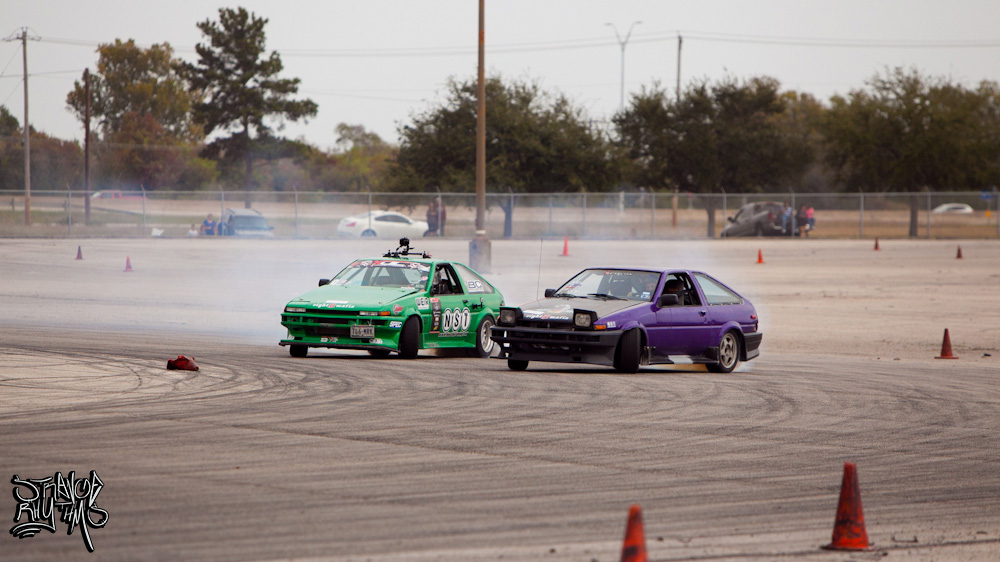 There was a prize for the most aggressive run (that didn't end in a wreck). Robert Lee and Will Parsons had some epic proximity going and took it home.
Rob looked fairly pleased, but I'm not sure if you can can cash those kind of checks at an ATM.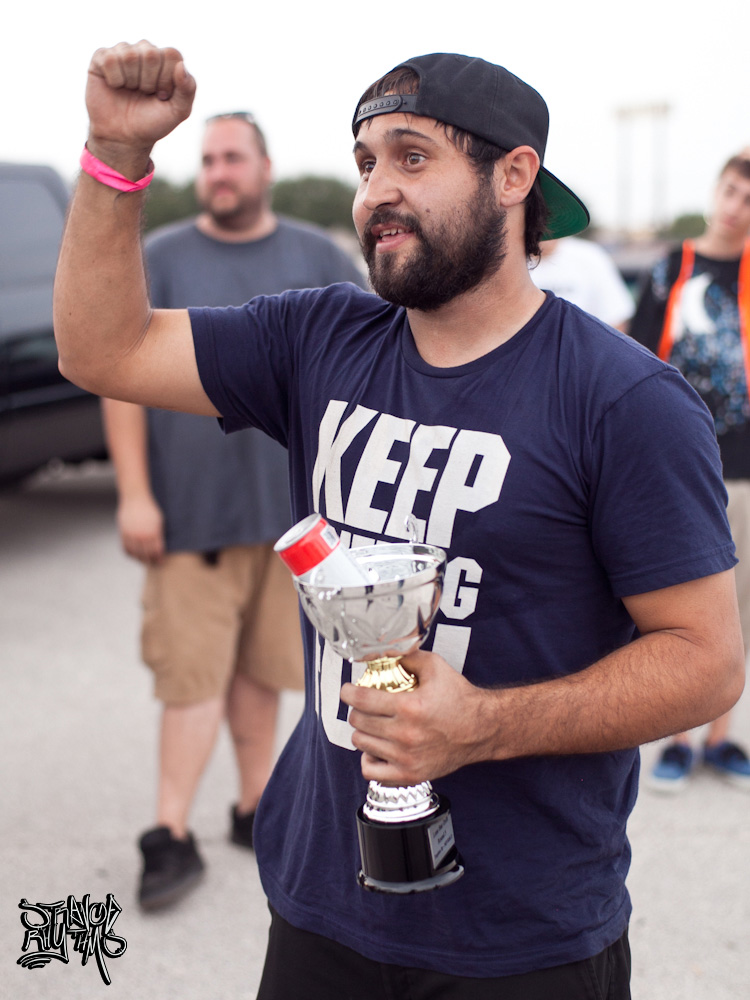 I kinda spoiled the results earlier, but Mario took home the heavy metal for Round 5. I don't keep secrets very well.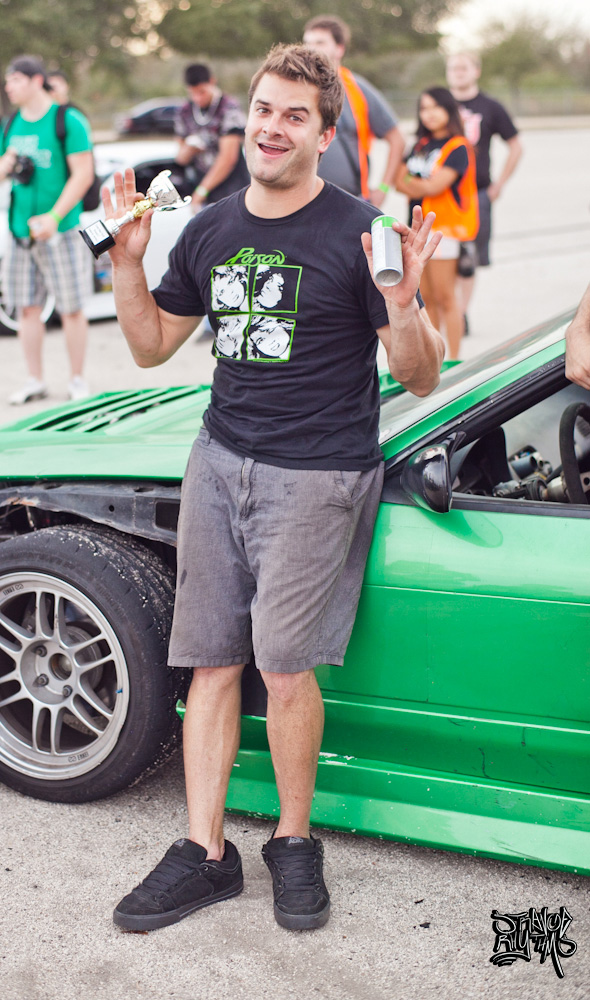 Here's a fun trip, go google image the words "Josh Steele NST." Once you spot the Hooters uniform I will have sufficiently scarred you emotionally. Unless you're a lady. In which case, you're welcome, I guess.
Overall Will Parsons got the big mama and finished at the top of the points board for the entire series.
Hopefully this doesn't mean that they too can't not die in a freak Gasoline fight accident.
I had a blast shooting and I'm looking forward to catching some of these guys at FD!
A few more photos are in he gallery below. For any questions about usage rights and higher resolution copies, you can find details on the contact page on how to get a hold of me. -Ryan